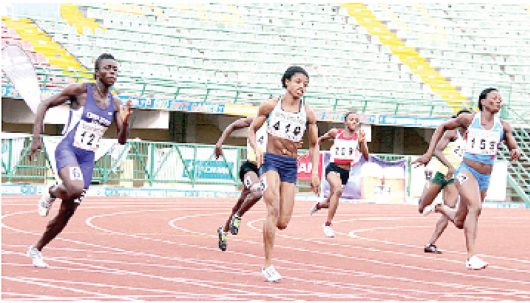 By Albert Akota
Delta State is becoming like the terrorists of Nigerian sports bullying other states to submission with the widening gap on the medal log. Even if the festival ends now, and Delta is stopped from making further medals still ahead of others due to it good performance.
They have taken unassailable lead. They took hold of the first place from day one and refused to vacate the slot. Instead, they kept the gap so wide and very embarrassing as if other states are not in the same pitches and fields where Delta are harvesting the medals.
Delta has won 27 gold, 9 silver and 15 bronze medals according to official medals table made available newsmen as at the time of official release of the log by the organizers.
Rivers state are second on the log raked in 15 gold, 14 silver and 13 bronze medals while Kano has won 7 gold, 6 silver and 4 bronze medals to emerge third at the ongoing 2018 national sports festival in Abuja.
Edo has 6 gold, 7 silver and 12 bronze medals as Oyo records 5 gold, 6 silver and 8 bronze medals to emerge 4th and 5th respectively.
Lagos and Bayelsa occupied 6th and 7th position as the Lagos has 4 gold, 4 silver and 17 bronze while Bayelsa has won 3 gold, 16 silver and 7 bronze medals.
The hosts, FCT, are having 3 gold, 2 silver and 5 bronze medal to occupy the 8th position on the log.
Abia, Osun, Imo, Ondo, Akwa Ibom are placed 9th, 10th, 11th, 12th, 13th on the medals table respectively.
Interestingly, the number of states that are yet to win medals have reduced drastically from 17 to 11 as the likes of Ekiti, Adamawa, Borno, Ebonyi, Gombe, Jigawa, Katsina, Kogi, Kwara, Sokoto, and Zamfara states are yet to show any sign of fruitfulness on medals list.
Meanwhile, Rivers State maintain their second position with 23 gold, 21 silver, and 28 bronze medals while Edo follow closely a total of 43 medals which consists of 13 gold, 9 silver, and 21 bronze medals.
Lagos moved four place up from 8th to 4th with 8 gold, 10 silver and 30 bronze.
Kano has been displaced from the second position to the sixth winning 7 gold, 9 silver, and 10 bronze medal.
The hosts, FCT maintained their 7th position with a total of 16 medals which includes; 7 gold, 2 silver and 7 bronze medals.
Abia, Bayelsa and Osun states complete the top 10 on the medals table while Akwa Ibom, and Imo occupied 11th and 12th position respectively.
Interestingly, seven states are yet to win medals. The states includes; Zamfara, Katsina,Jigawa, Gombe, Ebonyi, Borno and Adamawa.
Four states have indicated interest in hosting of the next edition of the national Sports Festival.
Kaduna, Crises River, Delta and Edo have submitted their application to host the nation in the next biennial sports events
Action continues tomorrow as more medals will be won in different sports by different states.