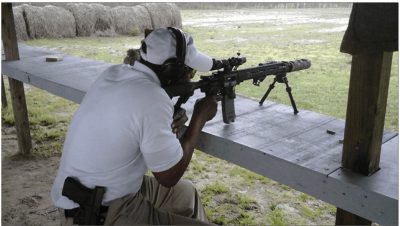 By Amaechi Agbo and Albert Akota
The Nigerian Shooting Federation (NSF) has concluded all plans to host a hitch-free maiden Media Shooting Workshop Competition for Sports journalists across Nigeria in Abuja.
The National Shooting Range at Package B of the Abuja National Stadium which begins today will last till Thursday, according to its Media Officer, Eche Amos.
In an interview with our correspondent, Amos who is also a board member of the NSF, gave assurance that all is set as logistics, including accommodation, feeding and kits for the forty (40) media personnel drawn from Radio, Television, Newspaper, and New Media Organizations who have indicated interest to partake in the three-day programme.
"Well, the federation wishes to inform participants and the public that it is fully ready for this maiden edition of the media shooting workshop and competition for journalists resident in Nigeria. All logistics have been put in place
The hotel accommodation for all 40 sports journalists drawn from across various media organizations in Nigeria is set. The facilities and personnel to lead the workshop and practical competition are readily available.
Feeding for entire duration of the workshop and competition for all participating media personnel has also been sorted out," he explained
On what the workshop aims to achieve, Mr Eche said "The workshop intends to inculcate the sport of shooting into the minds of Nigerians and also give sports journalists the requisite knowledge in the coverage, reportage and dissemination of the sport to the heterogeneous audience
"It is also to revive the sport of shooting in the country. And offer sport journalists the requisite qualification to cover shooting sport both locally and internationally
"As one sport with about 38 gold medals, a well-organized shooting federation and shooters will brighten Nigeria's chances in the medals' table at international competitions
"Also, the workshop intends to train professional journalists who can cover, write, and report the sport of shooting vis-a-vis partake in it
"Ours is to make shooting a platform for and integrated sport where shooters can achieve self-actualization and inclusion, regardless of age, height, intelligence or disability and we hope to create opportunities for participation, promote development of mental and physical confidence in shooting sport. And to achieve the above, consistency, passion, equality, integrity and hard work are the top priorities
The Media Officer who said that registration as a member of the NSF is free; called for both government and private sector sponsorship to help in developing and promoting shooting in Nigeria.
"There is room for anyone who wishes to register in shooting. Like earlier said above, it doesn't discriminate or segregate. So long as you are mentally, psychologically and emotionally balanced visit our website www.nigshootingfed.com.ng for registration.
In the same vein, "The president of the federation, retired Brigadier Lonsdale Adeoye, said since his election in 2017, the federation has been transforming the sport, day-in, day-out.
"Anyone can join shooting. No fee is required. It is free. And you don't bring your equipment. We have all the equipment needed for your growth and development. We will soon take the world by surprise as we have some of the best shooters, both able and para-shootings. All we need now is the government and private sector support and attention," he concluded.
High-profile dignitaries expected to grace the grand finale, are Minister of Sports and Youth Development, Barrister Solomon Dalung, Countries' Ambassadors, Presidents of the various Sports Federations in Nigeria, Service men, and Captains of Industries.