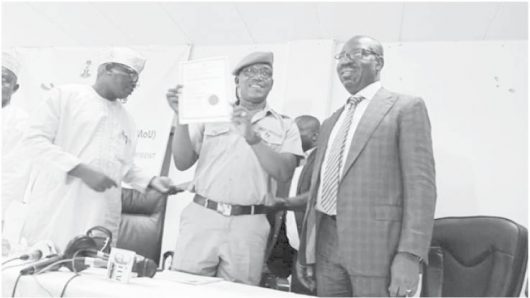 By Amaechi Agbo
Ahead of the 20th Edition of the National Sports Festival, NSF to be hosted by Edo State, the minister of Youth and Sports Development, Solomon Dalung has expressed optimism on the readiness of the state to host one of the historic festivals in the country.
Giving his assessment of the readiness of the Samuel Ogbemudia Stadium ahead of the festival slated for early next year, Dalung said that that the stadium which would be ready in two months' time will play a major role in hosting the festival and commended the governor for commencing renovation work evening before the hosting right was granted to the state.
"What I saw in Benin when I went there for inspection was amazing in not less than two months, they will be completing the Samuel Ogbemudia Stadium in Benin which is a massive transformation. The stadium, from my assessment, is structured in compliance with some of the international stadia I have seen around the world.
"It is on this basis that I want to appreciate the Edo State government for the hosting right and for the efforts that have been on ground before the award of the hosting right.
"There are also these concepts which I saw in Edo, the building of permanent hostels for games. In one of the structures I inspected which is about 90% completion, there is a provision for over 4, 500 accommodations for athletes, solidly constructed. And this could be used for the next 20 to 30 years. So I think Edo is reconfiguring itself to take its rightful place in being one of the states in Nigeria that was leading in sports development when it was then Bendel State," Dalung concluded.