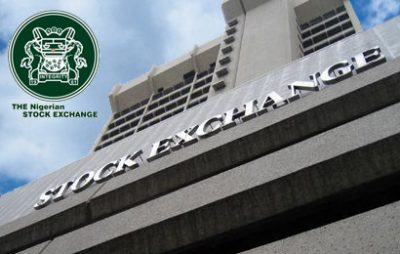 From Ngozi Onyeakusi, Lagos
Driven by activities in financial services industry, transaction at the floor of the Nigeria Stock Exchange (NSE) has for some weeks maintained a bullish trend as the twin market indicators continued to gain higher.
Specifically, the NSE All-Share Index appreciated by 5.11% to close at 45,092.83 basis points from 42,898.90 basis points it opened with while the Market Capitalization equally increased by 5.11% to closed at N16.154trillion from N15.368 trillion recorded the previous week.
Similarly, all other indices finished higher during the week with the exception of the NSE Consumer Goods Index that depreciated by 1.31% while the NSE ASeM Index closed flat.
Review of activity in the market showed that a total turnover of 5.011 billion shares worth N45.816 billion in 44,569 deals were traded this week by investors on the floor of the Exchange in contrast to a total of 5.021 billion shares valued at N68.974 billion that exchanged hands last week in 41,542 deals.
The Financial Services Industry (measured by volume) led the activity chart with 3.672 billion shares valued at N29.946 billion traded in 28,608 deals; thus contributing 73.29% and 65.36% to the total equity turnover volume and value respectively. The Conglomerates Industry followed with 864.180 million shares worth N2.440 billion in 2,561 deals. The third place was occupied by Consumer Goods Industry with a turnover of 210.994 million shares worth N7.731billion in 7,336 deals.
Trading in the Top Three Equities namely – Transnational Corporation of Nigeria Plc, Diamond Bank Plc and FCMB Group Plc (measured by volume) accounted for 1.751 billion shares worth N5.023 billion in 6,131 deals, contributing 34.93% and 10.96% to the total equity turnover volume and value.
Also traded during the week were a total of 1.947 million units of Exchange Traded Products (ETPs) valued at N105.567 million executed in 15 deals, compared with a total of 777,535 units valued at N7.689 million that was transacted last week in 15 deals.
A total of 4,437 units of Federal Government Bonds valued at N4.260 million were traded this week in 9 deals, compared with a total of 6,301 units valued at N6.298 million transacted last week in 12 deals.
Forty (40) equities appreciated in price during the week, lower than sixty-six (66) of the previous week. Thirty-two(32) equities depreciated in price, higher than seven (7) equities of the previous week, while one hundred (100) equities remained unchanged higher than ninety-nine (99) equities recorded in the preceding week.