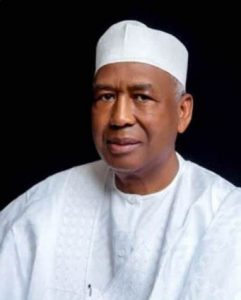 Tuesday Column By VICTORIA NGOZI IKEANO
vikeano@yahoo.co.uk | 08033077519
Alhaji Ismaila Isa Funtua, astute businessman, philanthropist, politician, life patron of the International Press institute and chairman of the N.I.J. governing council as well as a former minister had been receiving tributes from far and wide until a decision by the Nigeria Press Organisation changed the equation. That singular act triggered a flurry of articles, portraying the other side of the man with personal, rather unpalatable experiences. They include, 'Isa Funtua: Trust betrayed'; 'How did Ismaila Isa Funtua defend press freedom?'; 'Isa Funtua cannot represent Journalism'; 'Funtua: Honour not deserved'. Until then, he had been receiving high praises in condolence messages from the high and mighty, several organisations in which he served, many of those who crossed his path while he was on earth and even in newspaper editorials. For example, Daily Trust in its editorial stated in part, "Nigeria again lost one of its illustrious sons on July 20,2020 Malam Isma'ila Isa Funtua, adding to the number of losses the country suffered this year. Born on January 17, 1942, in Funtua, Katsina State, he was a pioneer student of the Federal Training Centre, Kaduna. He also trained as an administrative officer at the Institute of Administration, Ahmadu Bello University, Zaria and as an administrator at the Manchester University in the United Kingdom. He began his working career at the Katsina Native Authority where he served for seven years as an Administrative Officer and later served in various ministries in the defunct northern region. He was later seconded to the United Nigeria Textile Limited (UNTL) where he served as Personnel Manager overseeing 10,500 workers.
" Late Isma'ila Isa Funtua in his 78 years sojourn on this earth cut out a niche for himself as an administrator, a politician,a philanthropist and businessman. He was the Minister of Water Resources under President Shehu Shagari and the founder and Chairman of Bulet International Nigeria Limited, the largest wholly owned Nigerian construction company in addition to being a director in several companies including Funtua Textile Limited which he founded and has remained the only textile in the country to be in business in spite of operating difficulties. He was also the founder and Chairman of New African Holdings Limited, publishers of the defunct Democrat newspapers.
"His leadership qualities came to play at NIPPS when he was elected the Monitor General of Course 9. He was elected the Vice President of Newspaper Proprietors Association of Nigeria (NPAN) with Chief MKO Abiola as President. It is on record that he refused all entreaties by the government of the day to assume the position of president when Abiola was under detention. He was later elected the president of the association. Malam Isma'ila was also a life patron of the International Press Institute (IPI), a global network of editors, journalists and media executives. As president of NPAN, he worked tirelessly sometimes at a great risk to his personal safety to protect press freedom, especially at that trying moment the nation found itself. Malam Isma'ila was a politician who chose to work quietly to ensure Nigeria became a better place for all citizens. The death of Malam Isma'ila Isa Funtua has robbed Nigeria of a patriot, journalism of a friend, the business world of an entrepreneur and Nigerians of a generous man".
From the above narration it can be seen that the late Isa Funtua was a resourceful person, a quintessential administrator who left a mark in several fields of endeavor. Quite apart from being President Muhammadu Buhari's in-law the man had apparently been an influential figure in government circles, past and present and had helped a number of persons in that regard. In her own tribute to him, the First Lady, Hajia Aisha Buhari revealed that Alhaji Isa Funtual was instrumental to appointment of not a few women into government. However, all the accolades Alhaji Isa Funtua had deservedly been getting upon his demise was somehow tainted by the disapproval of the NPO's decision to name the Nigeria Institute of Journalism (NIJ) after him. The NPO said it took the decision after due consultations with organisations that make it up, namely the NPAN, the Guild of Editors and the NUJ). Given the strong resentment, it is doubtful if the NPO consulted wide enough like asking each of its constituent parts to go get a feedback from their own constituency. I say so because some of the dissenting articles dug deep into history, giving the historical antecedents of the NIJ and those who sacrificed much for it in the beginnings. Could it be that the NPO executive acted on the spur of the moment, given that this decision was taken barely one week after Alhaji Isa Funtua's passing? But given the caliber persons in the NPO how could they have taken such a misstep? My guess is that they made the decision in good faith to honour a 'friend of Journalism' without thinking it out thoroughly, considering or debating other options. The man contributed his quota to journalism. He was at least, a trail blazer in establishment of private newspapers in the north. As life patron of the IPI, he gave Nigeria added voice on that platform. By jove he deserves to be honoured and the other several organisations he served, including governments could find other befitting buildings in Katsina state and the federal capital territory to name after him. The NPO itself could also still honour him in some other way, a way that will be generally acclaimed by all. For, all the writers agree that Alhaji Isma'ila Isa Funtua was a nice man.