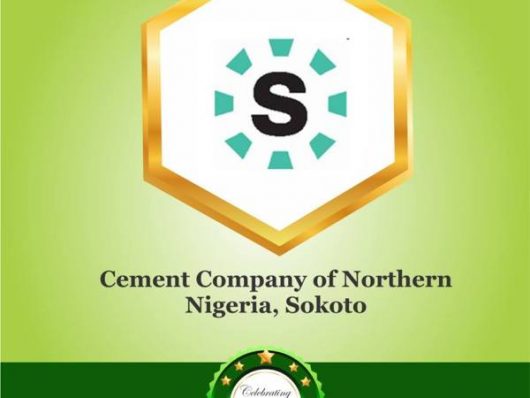 From Raji Bello, Sokoto
Cement Company of Northern Nigeria, (CCNN), has declared a total sum of N3,223,853,347 as profit made after tax in the 2017 financial year.
The Chairman of the coy, Alhaji Abdulsamad Rabiu disclosed this at the Annual General Meeting held in Sokoto, yesterday.
In his welcome address, Abdulsamad disclosed that, the company performed well considering its capacity and the numerous challenges it faces, of which shortage of energy is the primary and biggest challenge.
He said during the year, the company had a revenue of N19,588,260,886 with a dividend of N1.25k compared to N14,087,553,499 revenue recorded in 2016.
Abdulsamad descried the year as 'interesting', noting that "the economy of the country gradually crawled out of recession and the impact of the recovery although witnessed in other sectors, is yet to be fully felt in the construction sector gradually and the cement industry in particular."
According to him, "LPFO which is the main energy used by the company has to be supplied from sources other than the Kaduna Refinery which is the closest to CCNN's plant, and had not been supplying LPFO for quite a long time now.
"Improved cement prices and efficient cost management contributed to higher revenues and the good margin that was the best witnessed so far in the company's long history. This indeed an excellent achievement, which we hope to sustin in the company giong forward.
"The company is still dominant in its home market and also penetrates into some key strategic markets neighbouring its location overtime because of the quality of our cement."
Hightlists of the meeting was the re-election of Alhaji Abdulsamad Rabiu, as chairman of the company board of directors.
Also re-elected as director is Mr Chimaobi Madukwe, while the trio of Senator Khairat Gwadabe, Alhaji Shehu Abubakar and Alhaji Abbas Ahmed Gwandu, were newly elected into into the board of directors.
Prior to his election, the shareholders commended the chairman for his visionary leadership in commissioning of a new plant and expanding the company's sales outlets to neighbouring countries.
Other agendas of the AGM was the fixing of remuneration for the auditors and election of members of the audit committee.