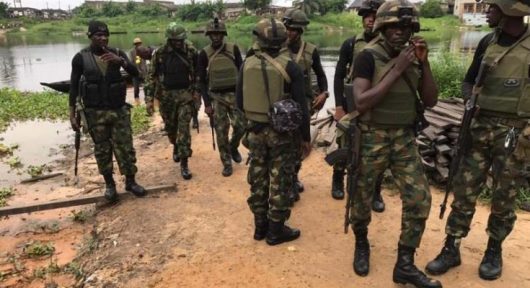 By. Stanley Onyekwere
A team of international observers made up of journalists, Civil Society Organisations (CSOs), Non-governmental Organisations (NGOs) and social media influencers have lauded the Nigerian Army for making the north-east impenetrable for Boko Haram terrorists to seize any of its territory again.
This was revealed at a press conference in Abuja after a fact finding mission report on the activities of Boko Haram in Gundunbali, Damask and Garshigar of Borno state.
The team leader, Daniel Furnard, said his team decided to embark on a 10-day tour of the areas following the avalanche of conflicting reports emanating from the North East.
The team leader, who had worked with the British Broadcasting Corporation, (BBC) for over 20 years, said the tour has put to end speculations about developments in the area.
He added that the team was on the ground for one week beginning from 25th September to October 4th, 2018.
He said: "It suffices to state that the overarching objective of the tour was to put paid to speculations about Boko Haram occupying territories in some communities in North East Nigeria after some attempts by the terrorists to invade Nigerian communities under the control of the Nigerian Army.
"Consequently, the team decided that there would be no military escort for the duration of the project.
"In the course of the trip, the members of the group were divided into clusters and each with a local tour guide that assisted with language barrier challenge. Each cluster visited communities and observed their daily activities whilst all the activities were videoed and pictures collected .
"The team discovered that there is no territory under the control of Boko Haram terrorists anywhere within the geographical entity called Nigeria . Using the case of Garshigar as an example, the town enjoys relative peace. Indigenes went about their regular businesses, but for the presence of military personnel in strategic locations."
It should be noted that the coalition of CSOs that participated in the tour have been actively involved in humanitarian activities in the region and also conversant with the terrain and guided by local guide selected on the spot.
Furthermore, the team said in the case of Damasak, indigenes went about their regular businesses without fear, adding that visible signs of unrest were the buildings that were demolished in previous attacks.
"Damasak is bustling with economic activities, so much so that people from neighbouring communities of Dogomolu, Douro, and Chemba frequent Damasak to trade.
"There was also a strong military presence in the town at strategic places. Upon interacting with the indigenes', they heaped praises on the efforts of soldiers in the military base stationed in Damasak.
"The team also observed a high return rate of people that were once displaced by Boko Haram terrorist in times past. Also, there are lots of construction works ongoing in homes and schools.
"There was also a high presence of humanitarian workers providing health services in the rebuilt general hospital," he added.