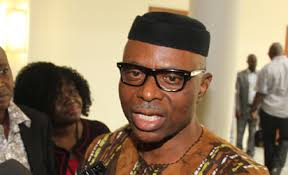 From Femi Oyelola, Kaduna
The North West zone of the Labour Party of Nigeria has thrown its weight behind the former Governor of Ondo State, Dr. Olusegun Mimiko as the party presidential aspirant in the 2019 general elections.saying the party did not belong to Nigerian Labour Congress (NLC)
The spokeperson of the Chairmen from the Zone Engr Umar Farouk disclosed this while briefing newsmen in Kaduna yesterday. According to him the NLC , National Chairman, Ayuba Wabba was misguided, ill-informed and motivated aimed at tarnishing and undermining the good leadership of the party under the able leadership of Alhaji Abdulkadir Abdusalam
He also accused him of distracting Nigerians from the presidential declaration of the immediate Dr. Olusegun Mimiko."
"It has become unavoidable necessary to put the issue in their proper perspective that the statement put forward was issued out of ignorance, prejudice and motivated by political opponents who are afraid of the growing fortunes and prospects of the party as we inch closer to the 2019 general elections.
"That the Independent National Electoral Commission, INEC, has stated categorically that the National Chairman of Labour Party is Alhaji Abdulkadir Abdulsalam. It is therefore in bad faith, that the NLC president, Ayuba Wabba to undermine this position.
"That our great Labour Party under the able leadership of Alhaji Abdulkadir Abdulsalam participated in the just concluded Ekiti and Osun states governorship elections and the party will continue to participate in all elections come 2019."
The spokesman explained that while the party appreciates and acknowledge the solidarity of the organized labour with the party, it stated that the Nigerian Labour Congress is not the owner of Labour Party.
"Once a political party is registered it has a life of its own, and it can only be regulated by its constitution (see section 80 of the Electoral Act 2010 (As Amended)," he observed.
The party advised the NLC president, Ayuba Wabba to remain focus on his roles as president of the NLC and address issues affecting workers welfarism, instead of meddling in the activities of political parties.
"Nigerians are not unaware of the plight of the Nigerian workers who are impoverished occasioned by the current low minimum wage, unpaid salaries and allowances while others have been sacked indiscriminately," the party said.
The current leadership of the party, he said, under the leadership of Abdulkadir Abdulsalam believes in the rule of law and the sanctity of its constitution.