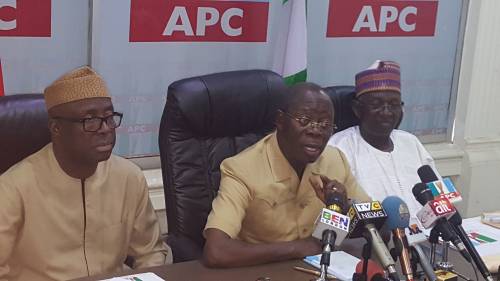 All Progressives Congress (APC) members in the House of Representatives have asked their party for automatic tickets to return in 2019. These shameless, self-serving lawmakers from the ruling party are demanding that they be rewarded for sticking with the party in last week's gale of defections that hit the APC in the House and Senate. This is blattant political blackmail. It must be resisted.
The demand of the APC caucus in the House was presented by House Leader Femi Gbajabiamila during a meeting with new party lader Adams Oshiomhole in Abuja. Gbajabiamila said it took "the commitment of the members to the party and its ideology to turn down the tempting monetary offer" from the opposition Peoples Democratic Party for them to switch political camp. He appealed to the party leader to "continue to protect the interest of the lawmakers and do everything within his power to ensure that they are returned to the House in view of the experiences they have garnered over the years."
Gbajabiamila continued: "I want to congratulate the party that we are able to heave a sign of relief after what I personally consider an abysmal failure, the attempt to turn APC into a minority party in the House and Senate. The reason why that was not possible is because seated before you is a team committed to the ideals of our party and despite sharing in the grievances of those who have left, we have remained steadfast. It is because of them and not because of anyone of us in leadership, it is because of them, their commitment and steadfastness that in both chambers of the national assembly and especially in the House of Representatives that we command a clear majority. I emphasize this so that the party can begin to appreciate these members.
"It is the time to consolidate and stay in touch with our members and keep them close. Mr Chairman, this is their time. I was on Channels yesterday with the PDP publicity secretary and it made my heart bleed by the way politicians were described in a term analogous to farming. He said this was a harvest time as if it was a harvest of corn, rice and maize.The APC is not for harvest."
In response, Oshiomhole said point blank that automatic tickets were out of the question. He said that while the party would continue to dialogue with members that have "genuine grievances", it would not negotiate with those he described as "political mercenaries". He said the nation must get its politics right and that politicians must learn to hold onto an ideology that will drive their electoral process. "Until we get there, these musical chairs will continue…What has happened is that we are able to establish ahead of time those fair-weather party members who go according to where their pocket will be lined. Some of them are politicians of convenience and I don't think that if we patch them up now, they can still flow.
"Somebody has asked if we are going to counter the PDP by offering automatic tickets and I asked, did we serve anybody a departure ticket? If we did not give you a departure ticket, how did the issue of a return ticket arise? My own finding, arising from interactions, is that it is true that there are a number of legislators who have some issues with local forces in their respective states and not arising from the federal executive. Those issues are local and because all politics is local, every solution to a political problem should necessarily be local."
Oshiomhole has spoken our mind, and, we believe, the minds of other true Nigerian democrats. As we said at the beginninig, what the APC lawmakers have done is blackmail by another name. The party could do well not to succumb, not only in its interest but also the over all interest of the future of Nigerian democracy. The lawmakers must be told where to go ask for return tickets – back in their home constituencies. The truth is that many of the legislators have so alienated their constituents that they dare not go back for their votes again. What they are asking is to eat their cake and have it. Sorry, they shouldn't be obliged.