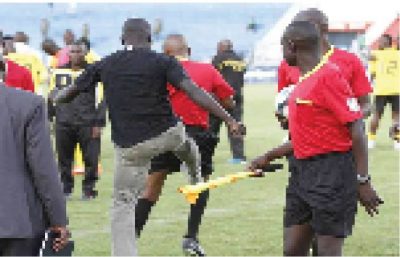 FIFA Referees Committee announced 36 referees and 63 assistant referees, who will officiate matches at the 2018 World Cup.
Referees and assistant referees representing 46 different nationalities made the list but not a single referee from Nigeria has been selected for the football festival in Russia.
It is worth noting that the four other countries representing Africa at the tournament – Senegal, Morocco, Tunisia and Egypt- have been invited to officiate at the World Cup.
South African, Gambian, Zambian, Angolan, Ethiopian, Sudanese, Burundian and Kenyan referees and assistant referees have also been picked.
The 99 officials will operate in a variety of roles, e.g. referees, assistant referees, fourth officials, reserve assistant referees and video match officials at the World Cup.
Referees
Abid Charef Mehdi (Algeria)
Diedhiou Malang (Senegal)
Gassama Bakary Papa (Gambia)
Grisha Ghead (Egypt)
Sikazwe Janny (Zambia)
Tessema Weyesa Bamlak (Ethiopia)
Assistant Referees
Achik Redouane (Morocco)
Ahmed Waleed (Sudan)
Birumushahu Jean Claude (Burundi)
Camara Djibril (Senegal)
Dos Santos Jerson Emiliano (Angola)
Etchiali Abdelhak (Algeria)
Hmila Anouar (Tunisia)
Range Marwa (Kenya)
Samba El Hadji Malick (Senegal)
Siwela Zakhele Thusi (South Africa)