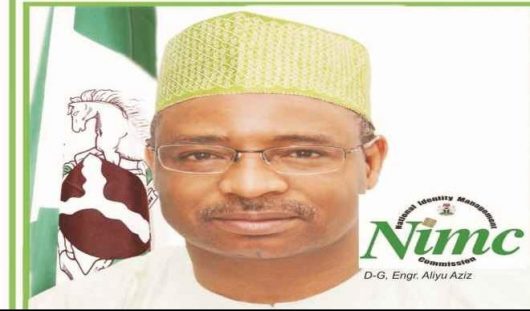 From Mustapha Adamu, Kano
The National Identity Management Commission (NIMC) has enrolled 33 million Nigerians on its database, according to its Director General, Aliyu Abubakar Aziz.
Speaking to newsmen in Kano State yesterday, Aziz said when he came on board in 2015, he met 7 million people enrolled by the commission, adding that in 2016, additional 7 million Nigerians were captured.
He further disclosed that in 2017, another 14 million people were captured in the commission's database, adding that about 5 million citizens had been enrolled in 2018.
The DG maintained that the commission, under his stewardship, had resolved to enroll the whole Nigerians in three years time, stressing that they would achieve the goal as they collaborated with other agencies for the success of the exercise.
According to him, the commission had set aside 900 registration centres nationwide, calling on the citizens to endeavour to be enrolled in view of the importance of the identification number.
"National Identification Number is the only means of identification by law. Driving license is for driving, international passport is for travelling. But this identification number is the only one recognised as means of identification.
"We have so far enrolled over 30 million people and will ensure that we capture the whole Nigerians within 3 years.
"It is a continuous process and we will ensure success of this exercise," he said
Azizi however stated that the commission needed about N50 billion annually to achieve the enrollment of the whole Nigerians within the three years timeframe.
He also warned Nigerians against lackadaisical attitude towards the issuance of the identification number, stressing that enforcement would soon commence to ensure everybody was captured before the timeframe.
He also disclosed that different enlightenment strategies were being employed in order to educate Nigerians on the imperative of the exercise.