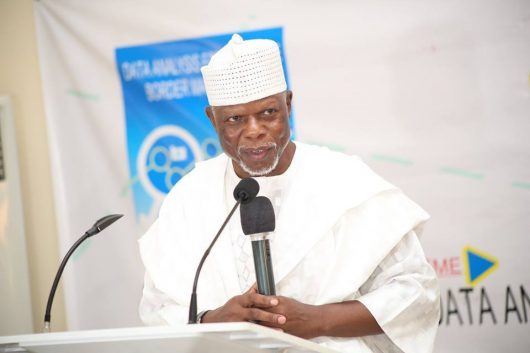 It has been over a month now since Nigeria ordered her land and maritime borders closed. In August, while attending the Seventh Tokyo International Conference for African Development in Yokohoma, Japan, President Muhammadu Buhari told his Beninois counterpart, Patrice Talon, that the partial closure of Nigeria's border with Benin Republic was due to the massive smuggling of especially rice, taking place in that corridor.
The crossing restriction at Seme border is part of a joint border security exercise ordered by the Nigerian government. The exercise is code-named 'Ex-Swift Response', being jointly conducted by customs, immigration, police and military personnel and is coordinated by the Office of the National Security Adviser.
Comptroller-General of the Nigerian Customs Service, Col. Hameed Ali, briefing federal parliamentarians recently, said the border closures had been worth the risk. He told them that NCS had been making N4.7bn to N5.8 bn in revenue monthly since the closure of borders. "When we closed the border, my fear was that our revenue was going to drop. To be honest, our revenue has kept increasing.
"There was a day in September that we collected N9.2 billion in one day. It had never happened before. This is after the closure of the border and since then we have maintained an average of about N4.7 billion to N5.8 billion on a daily basis, something which is far more than we used to collect. What we have discovered is that most of those cargoes that used to go to Benin (Republic) and were then smuggled into Nigeria (now come to us). Now that we have closed the border they are forced to bring their goods to either Apapa or Tin Can Island and we have to collect duty on them. If that (border closure) will continue, to us, it will be a welcome situation…".
Reactions to the closure of borders with neighbouring Benin and Niger have come from further afield. The regional economic bloc, ECOWAS, of which Nigeria is a foundation member, has been stridently critical. "The closure of the Nigerian borders with Benin more than a month ago, and [with] Niger more recently, [are] a hindrance to the achievement of the Community's main objective, which is to achieve the creation of a prosperous, borderless West African region where peace and harmony prevail," the speaker of the Ecowas Parliament, Moustapha Cisse Lo, said recently.
The border closures, it must be said, have been a difficult decision for the Nigerian government to take, given that Nigeria is an economic giant in the West African subregion. The size of the economy is a buffer for the struggling economies in the region. To keep providing that buffer, Nigeria must make sure her economy is not hurt by smuggling. Closing the borders may hurt those smaller economies for a while but our own self-enlightened interest is what counts in the long run.