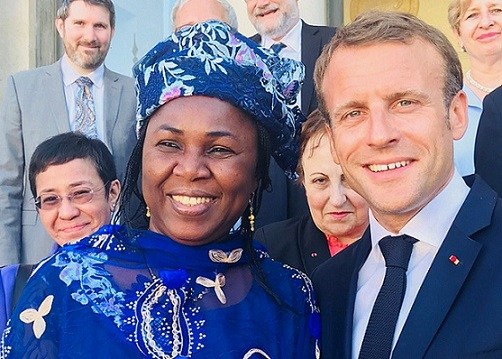 By Usman Shuaibu
A Nigerian, Professor Hauwa Ibrahim has been appointed into the Paris-based Global Information and Democracy Commission.
According to a report by Arnaud Froger, Head of the African Desk, Reporters Without Borders, the Global Information and Democracy Commission, which is Co-chaired by Nobel Peace Laureate Shirin Ebadi and Reporters Without Borders Secretary-General, Christophe Deloire, has Nobel Economics Laureates Joseph Stiglitz; Amartya Sen, Peruvian Novelist and Nobel Literature Laureate Mario Vargas Llosa as members.
Other members of the Commission include, Mr. Abdou Diouf, former President of the Republic of Senegal; Francis Fukuyama, Political Scientist and Political Economist, Professor at Stanford University, USA; Marina Walker, Journalist and Deputy Director of the International Consortium of Investigative Journalists, USA; Mr. Can Dündar, Journalist, Columnist and Documentary Filmmaker and former Editor-in-Chief of the Centre-left independent newspaper Cumhuriyet, Turkey; Maria Ressa, Journalist and CEO of the Rappler news website in Philippines among other intellectuals and leading journalists.
In a letter by the co-chair, Shirin Ebadi, the independent panel is being created to address the political control of information in a globalized public space, the influence of private interests, and the growing power of corporate actors who escape democratic control and the undermining of quality journalism.
"The Declaration's function will be to state principles, define objectives for decision-makers and propose forms of governance," the mission statement by the Co-Chair says. It must "constitute a point of reference that will mobilize all those who are committed to defending a free and pluralistic public space, which is essential for democracy."
Ebadi said the initiative's ultimate goal is to garner international commitment by governments, private-sector companies, civil society representatives and the leaders of several democratic countries that will lead to a declaration and International Pledge on Information and Democracy.
Hauwa Ibrahim (Mrs.) has been a Visiting Professor at Saint Louis University School of Law and Stonehill College. She is a World Fellow at Yale University, a Radcliffe fellow, and a fellow at both the Human Rights Program and the Islamic Legal Studies Program at Harvard University, USA.
Professor Ibrahim, who hails from Bauchi State, is a Human Rights Lawyer and 2005 Laureate of the European Parliament's Sakharov Prize (Nigeria).