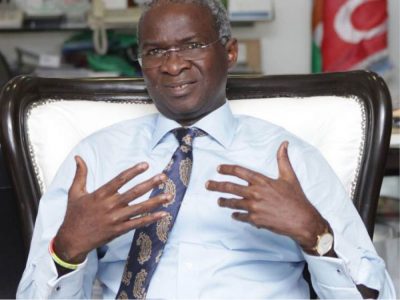 Babatunde Fashola is a chieftain of All Progressives Congress (APC), and Minister of Works and Housing, in this interview with APC correspondents, he says the federal government needs N500 billion annually in three years interval to fix the over 13,000 kilometers of federal highways, Ikechukwu Okaforadi was there for Peoples Daily. Excerpts:
Federal Highways across Nigeria is characterised by many collapsed and uncompleted sections, what is required by the government to complete these road infrastructure?
What the Federal Executive Council does is to approve the papers in memorandum. So, it is a platform which procurements process. There are procurements because of financial limits to the amount of money that can be done at the agency level. For example, Federal Road Maintenance Agency (FERMA) as an agency has approval level. If it exceeds FERMA approval level, it comes to the Ministry, if it exceeds the Ministry level, it will go to the Federal Executive Council (FEC), so what FEC does is not to approve money, it is to approve proposals, to execute, put in the budget, may be is a road, is a housing project. The SUKUK has been very helpful and I will take the SUKUK in terms of the amount of money required to finish our roads. We inherited a number of roads and resolved that we are going to complete as many of them as possible. Many of those roads started some in 2007, some in 2006, some even older. Unfortunately, the reasons cannot be imagined that at the time the country was earning more revenue up to $100 per barrel, the total budget for this country was N4 trillion. It is now that the country is earning less, $40 per barrel, that we are budgeting N13 trillion. So, really those roads should have been done but they are there. Even the ones done by State Governments were not paid for. I think that a minimum of half a trillion every year over the next two, three years will be a strong support to really advance and complete as many as the 711 contracts. Again, people are mistaking what I said about 711 contracts to mean roads. No. For example, in Lagos – Ibadan expressway, we have one road but two contracts; one with JD, one with RCC. On Benin/Lokoja, we have one road but we have five contractors. So, the totality of those contracts are made of 711 different contracts on many roads across the country and the total road network now under construction or rehabilitation is little over 13,000 kilometers in different stages of repairs, out of total Federal network of 35,000 kilometers. SUKUK is helping because it helps us to bring investment into the road sector. So we have 44 roads under the SUKUK. Most of the roads are spread across the six geopolitical zones. What is important is that the SUKUK is equally divided across the six geopolitical zones, but roads length in each zone is not exactly the same, so my zone can cover three or four roads, while your own can cover only two.
There are reports that most of these roads being constructed by multinationals in Nigeria are below standard and more expensive, compared to what obtains in the developed climes?
Rating of the quality of roads, I think we don't have our standard, roads are constructed to a universal global standard and those standards are not made by Nigeria, there are uniform standards. You can then have a minimum and a maximum standard. In many cases we have reached some maximum because of the quality of finishing they have applied. One of the things we are doing on the Lagos-Ibadan and a few other places; Enugu-Port Harcourt, we use what they call polymer modified bitumen instead of the 60/70 bitumen. The polymer modified bitumen is stronger, so we are constructing at a very high standard.
What is the level of completion on these federal roads since President Buhari took over?
In terms of the percentage of roads done in the current budget, it depends on how you want to view it. If you want to talk about cash side of government, it will be about 75% because we have received only third quarter release and that is 75% over 100%. But if you want to measure actual work done, we have done more than 100%. That may look strange to you, so let me explain. You see, construction companies oftentimes do more work than we actually budgeted for them, so we end up owing them. That is why we are owing more than what is in the budget. It is important to understand this; construction companies don't keep building materials. They don't keep laterite, they don't keep gravel, granite, sand, cement. So while I am working, government has not paid me, my supplier trusts me, he continues to supply up to a point where he cannot cope. One of the contractors told me he was owing a diesel supplier N800 million, he has paid N530 million. So that credit begins the cycle of credits and supply continues and that is what drives the economy. So, it is not exactly N100 budget N100 work.
Based on your experience and exposure, which is the reason why road projects don't last in Nigeria?
How do we get the best out of those roads, I think that is the question you should ask. The way to get the best out of these roads is to stop the way they are abusing them. There are those who do stocking business, whether it is those who carry food or it is those who carry petroleum products, they must go and get trucks park. Go and look for a place to park your trucks, you can't add that burden to government. Government is not involved in stocking business, government is responsible to provide a reliable road network. So what do we see as a way of abuse? There is a part of the road just immediately where the road ends and is called the shoulder, that is where trucks park and that is where the damage to the road starts. It starts in many ways, one of the most notable one is that where they change oil, that is where they drop diesel. Most of the roads constructed with bitumen and the asphalt, petroleum and diesel are the same products of hydrocarbon. They may do different things, the diesel and the petrol dissolve – they are solvents. So once you start pouring substance containing the components, the roads have to be disintegrated. I plead with you to help carry this message in every language. Those who sell diesel by the road side are the first people destroying the roads. Those who distill petrol by the roadsides are the first people destroying the roads. Those who park on the shoulders are also the first people destroying the roads. Because once you create that weak point, water sinks under the road. So when there is compaction of the laterite, the cement begins to weaken. So if people use the roads properly, we can get the best out of roads. But long term is also when we have rail. The Minister of Transportation is making progress there to make our cargo movement to be by rail.
What strategy do you adopt to ensure that only priority bridges and roads are built and repaired?
We have them in different categories. Some of these bridges are over 40 years, no maintenance. We have done a national survey of all the bridges and the maintenance and rehabilitation schedule is now from the worst to the best. So we are starting from those that are really in critical conditions, like Tambuwal bridge, Eko bridge, the third mainland bridge, Marine bridge, Chanchangi bridge, even the old Niger bridge is constantly maintained. Why we are building the new one is because we cannot afford some of these to collapse. So we are moving from the most critical to the less critical and then this will become routine. All our projects are priority. As I said we don't want to leave anybody behind but again we have to understand where the economy is heading. Our economy is heading towards agriculture, industrialization, energy sufficiency, micro and macroeconomic stability, made in Nigeria for export, ease of doing business, effective and reliable port service. So we target the roads that serve the ports, we target the roads that move petrol, we target the roads that move and supply food, we target the roads that cross borders, that enable us to do export and import business. We also target the roads where we have counterpart funding so that we can pay our counterpart funding. Those are the principles that govern how we utilize our resources on roads.
Is it true that the APC government under President Muhammadu Buhari is contracting roads to Niger republic?
There is not one project that is the trans-Sahara road. There are nine roads that are trans-Saharan. Some of them pass through our country, some do not. So the one that passes through our country is the road that links us to Chad and it links Central Africa from Jibuti, through Chad, through Kano, all the way to Niger and to Mali. So the section of that road that passes through Nigeria would be the Kano-Maidugruri highway, that goes from East to West of Northern Nigeria. We have the one that goes from Lagos through Illorin, Sokoto,Tambuwal, Jeddia that is road number 2. Another one is road number 3, Lagos it passes through Seme, Badagary, Benin republic, Togo, Ghana, Ivory Coast to Senegal. The first phase been constructed now is the Lagos-Abijan road and we have awarded the Seme to Okoko and what they are focusing on now is drainage. There are others that are not part of the trans-Sahara highways but they are international roads like the one in Enugu to Cameron. This was part of the agreement that ceded Bakassi to the Republic of Cameron, so there is joint venture to build a bridge, that bridge is almost finished it had to finish in August this year but it was delayed by COVID-19 and it will run into 2021. There are nine such roads but the ones that pass through our country are the ones I talked about. The funding for them comes from different sources some of them are funded by loans granted by multilateral; each country support, some of them are funded by each country budget to execute their own part.