Nigeria has potentials for development –Jin Xin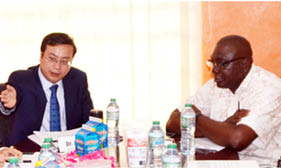 By Ochiaka Ugwu
Director-General, China Centre for Contemporary World Studies and Secretary-General, Silk Road Think Tank Association, Mr. Jin Xin has said that Nigeria has potentials to develop as full industrial nation.
Dr. Jin made this known in a "Roundtable Dialogue organized in honour of the visiting delegation of the Silk Road Think Tank Association" (SRTA) of the "China Centre for Contemporary World Studies" (CWS) in Abuja yesterday by the Centre for China Studies (CCS).
Speaking on the theme, "China's Initiated Belt and Road Strategy of International Cooperation and the Prospects to deepen Nigeria-China Cooperation, Mr. Jin while thanking the Centre for hosting the delegation they were in the country to deepen Sino-Nigeria relations and strengthen ties within the framework of Belt and Road Initiative.
He said that Nigeria is full of potentials both in human and natural resources which if unleashed will boost its economy for sustainable development.
Jin who led the delegation praised resource persons' knowledge on Belt and Road Initiative saying that it was founded by Chinese President, Mr. Xi Jinping five years ago in Kazakhstan but has become a world affair owing to its impact and prospect in international economic affairs as it has become a platform for economic globalization and cooperation.
Jin informed that they are looking for cooperation with people and community to make that economic cake that will be big for everyone.
Jin who frowned at the ongoing trade war between China and United States said we should look more on connectivity rather than tariff increase by providing infrastructure and information exchange to help lower prizes.
"There is need for infrastructure connectivity that will facilitate the growth of international economy. There is still big room for connectivity that will boost world economy" he said.
He said that due to implementation of policies, China rose to become world second largest economy and first in exporter of manufactured goods.
Lin said that utilization of Western investment and learning through exchange helped China to lift its people out of poverty.
Director of Centre for China Studies, Mr. Charles Onunaiju who spoke earlier said that when the Belt and Road Initiative started people see it as rhetoric, but it has become a unifying factor in world economic order.
He said the Initiative can elaborate the process of FOCAC through connectivity noting that it has offered openings for regional integration.
Going back memory lane, Onunaiju said we can employ the spirit of Trans-Sahara trade as was written by a Moroccan scholar, Ibn Batuta to Belt and Road Initiative.
He said that 21st century China is aimed at global cooperation which he said is the definition of Belt and Road Initiative.
Also speaking, Prof. Yusuf Zoaka of the Department of Political Science in the University of Abuja noted that FOCAC has been hijacked by East and South African nations making case for West African intelligentsias to be included in FOCAC structure for inclusiveness.
Another academia from the ivory tower, Dr Sheriff Ghali Ibrahim said that Road and Belt initiative has united old foes as many traditional enemies have keyed into it to share in its benefits.
Prof. Joseph Golwa stressed the need to root the Initiative in the consciousness of our people to enable them own it and utilize its gain.
Comrade Abass Hassan of the Centre for China Studies (CCS) said that China Centre for the Contemporary World Affairs should partner more with CCS to unite Nigerians and Chinese in order to develop capacity through people to people contact.
In his remark, Dr. Sadiq Abba of the University of Abuja said there is need for more awareness on the Initiative saying that it will enable people to know it and key into it.
The Deputy Chief of International Situation Division of China Centre for Contemporary World Studies, Dr. Lin Yongliang said that Belt and Road focuses on interconnectivity and serves as open and inclusive network for international cooperation.
A member of the delegation, Wang Baopen said China is committed to develop Africa on mutual benefit that will ensure sustainability.