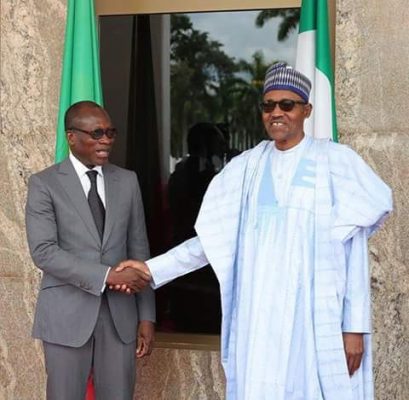 By Lawrence Olaoye Abuja
President Muhammadu Buhari and his counterpart from Benin Republic, Patrice Talon, have agreed to set up a joint committee to checkmate smuggling.
Both leaders agreed on the committee when Buhari hosted the Beninoise leader at the Presidential Villa yesterday, according to a statement made available to newsmen by Buhari's spokesman, Mallam Garba Shehu.
Also to be consulted in the workings of the committee is Niger Republic, which is believed to be a transit point in the concentric circle of smuggling of commodities, particularly rice, into Nigeria.
"We have succeeded in cutting the importation of rice into the country by about 90%," President Buhari told his guest, adding that smuggled parboiled rice still finds its way into the country, thus vitiating the efforts of government, and discouraging farmers.
"When I got into office in 2015, the first thing I did was to visit all our neighbours; Niger Republic, Chad, Cameroon, and Benin Republic. It made both economic and security sense, because if you are in good terms with your neighbours, you ultimately spend less on both physical and food security, "the President said.
He, however, added that activities of smugglers are hindering Nigeria's quest for self-sufficiency, particularly in rice production.
A more sinister side to the smuggling menace, Buhari noted, is the influx of small arms and ammunition into the country, thus increasing the spectre of insecurity.
Modalities of the joint committee to combat smuggling are to be worked out as soon as possible, the two leaders agreed.
The Nigerian President also welcomed the idea of a rail network to link Nigeria, Benin Republic, Niger Republic, and some other countries, saying "it is valuable economically," and would be subjected to further comprehensive study.
President Talon said smuggling affects both Nigeria and his country negatively, and also constitutes a threat to the bilateral relationship between the two countries.
"We are aware of how rice smuggling is affecting the development of local capacity in rice farming in Nigeria. It is affecting trade between us negatively, and Nigeria is an important partner for a country like Benin. But we have no powers to block goods meant for other countries, and our country is not the final destination for the smuggled rice. We need to develop a common will to face the problem," President Talon said.
He also submitted that the proposed rail network between the countries would boost economic development.