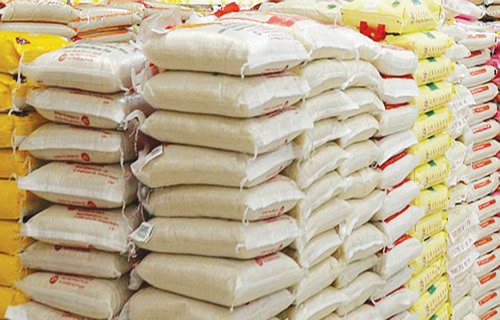 BY MUSA ILALLAH
Even though President Buhari's desire on the launching of the Anchor borrowers programme, ABP in 2015 was strategically aimed at delisting Nigeria from the list of rice importers, little did he know that the programme will achieve great success within a record time. The Central Bank of Nigeria, CBN Anchor Borrowers Programme inaugurated on November 17, 2015 by President Muhammadu Buhari is intended to create a linkage between anchor companies involved and small holder farmers of key agricultural commodities, mainly rice.
Since then, the multiplier effect of the programme was enormous with millions of people getting engaged as farmers, millers, small scale traders of rice across the country.
Even the Rice farmers Association, RIFAN's National Deputy Secretary, Alhaji Iliasu Awodi has recently confirmed that more than 10 million farmers nationwide have benefitted from the CBN anchor borrowers programme. In the words of Awodi, ''we are already competing with the international community since we produce our rice with the same quality being produced abroad.''
There are reports making the rounds that Nigerias rice is being sought by countries in Africa and the Middle East.
It is also on record that the CBN Director of Communications, Isaac Okorafor had told an audience at the Abuja International trade fair that 1, 140, 854 farmers have so far participated in the production of 17 agricultural programmes under its Anchor borrowers programme from the programme's inception in 2015 to June 2019.
Largely because of the people's friendly agricultural policies, the country has as at today significantly reduced its import of rice by 3.7million metric tons.
Nigeria's Chief Executive Officer of its Export Promotion Council, Segun Awolowo had disclosed that with the country's rice production put at 4.9million metric tons, dependence on foreign rice has declined from 4.5 million metric tons to 800,000 metric tons. According to Awolowo, Nigeria is among the top 16 rice producers in the world with production value put at more than N690billion.
Reports from Food and Agricultural Organisation, FAO; Rice Farmers Association, RIFAN; Nigeria's Federal ministry of Agriculture among others put Nigeria as the largest producer of the staple- Rice in recent times.
Presently, Nigeria has overtaken Egypt as the largest producer of rice in the continent. Nigeria now produces 8 million tons of rice annually as against Egypt's 4.3 million tons per annum. On the average, all the African countries put together produce 14.6 million tons of rice annually.
Even President Buhari has maintained that his administration's rice revolution has made the nation attain food sufficiency, especially in rice production.
The closure of the country's borders by the Federal Government last year was largely targeted putting a stop to large scale smuggling into Nigeria and consequently government getting its dues of taxes through payment of duties by importers.
The fallout of government's emphasis on agriculture, particularly rice production is the springing up of hundreds of thousands of major and small scale rice mills across the lengths and breadths of the country. Hundreds more are being constructed daily in the north, south, east and west of the country to support this unique initiative of government. Even state and local governments, Universities, institutions, communities, organisations and individuals have taken up the challenge to flood the nation with Rice as the most staple food in the country. Hundreds of thousands of jobs are daily being created through the rice value chain in the country.
Reports have recently indicated that a business mogul and Chairman of Max Air Holdings, Dahiru Mangal has started constructing a N20 billion rice mill in Katsina. It will be the biggest rice mill in the African continent. The 36 tons mill per hour will come on stream in two months time. This will go a long way in further revolutionising rice production in Nigeria.
Counting the benefits of the border closure, a professional news magazine, 'Economic Confidential' after a painstaking 3 weeks survey on foreign rice came to the conclusion that today only 37%of rice in the Nigerian markets is foreign. This success is largely attributable to government's emphasis on rice production through support to all manner of rice farmers by anchor borrowers' programme and the border closure. The report indicated that as at April last year 70% of the rice in the market was foreign.
What the government needs to do to further push the benefits achieved so far is to among others consolidate and enhance the gains of the anchor borrowers programme and the border closure so that more and more farmers can cash in and grow more food, particularly Nigeria's staple, rice.
Government must as a matter necessity liberalise the policies and programmes of rice production by institutionalising incentives for farmers, millers and marketers along the value chain.
Availability of farm inputs, fertiliser, implements, herbicides and pesticides among others at subsidised rates with minimal ease of accessibility will go a long way in boosting rice production in the country. This will go a long way in making government achieve its target of lifting 100million Nigerians out of poverty.
It is therefore not in doubt that the PMB's administration efforts to institutionalise and put agriculture on a strong footing is on course. Nigerians must compliment this resolve by lending their hands of support to achieve the set goals. This will undoubtedly liberate the country from being a rice import dependent country to one that is sufficient in local production and make its surplus available for export.
Ilallah wrote in from EMEKA ANYAOKU STREET, ABUJA
musahk123@yahoo.com