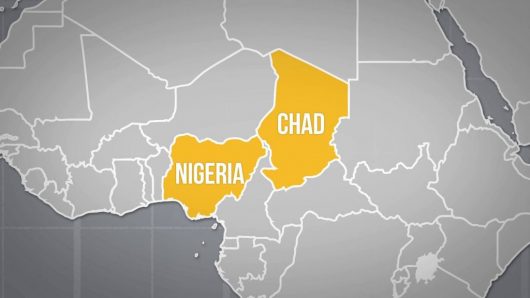 Monday Column by Emmanuel Yawe
royawe@yahoo.com | 08024565402
Nigeria gained independence from the United Kingdom in October 1960. Earlier in that year, marked internationally as the year of African independence, Chad had gained her independence in August. Since then the two countries which have an 85 kilometer boundary have had a shaky relationship.
In reality, the precarious nature of the relationship predates even colonial acquisitions at the Berlin Conference of 1884 when some greedy white land grabbers sat down with a map and proceeded to parcel and share the continent of Africa, just to satisfy their gluttony. In the land grabbing stampede of that day, the British were more strategic. While they targeted territories overflowing with milk and honey, the French just grabbed large parcels of arid land. The British wanted quality; the French wanted quantity.
Nothing illustrates this better than what the British and the French got between Nigeria and Chad. The British took away Nigeria with a total land area of 910, 768 sq km as their property while the French went home with Chad, a country with a total territory 1,259,200 sq km. The British got in Nigeria a country filled to the brim with resources, Chad was an elaborate arid desert, double the size of Nigeria.. To make matters worse, it was landlocked.
At independence, they all grappled with problems of under development. Soon both countries found themselves zooming to anarchy. In those days, there was little an African country could do if her neighboring country was been misgoverned or even heading to anarchy. African countries had come together to form what they called the Organisation of African Unity. One of the provisions of the OAU charter which its member states held unto like holy writ was the provision that member states should not interfere in the internal affairs of other countries. Coups, counter coups, civil wars became rampant all over Africa in the 60's and 70's. Every country maintained her social distance and watched how its fellow African country governed or misgoverned itself.
That was certainly the case between Nigeria and Chad. And if Babangida did not come up with the novel idea of ECOMOG – an intervention mechanism whereby a group of African countries could come together to save an African country that was hell bent on destroying itself, Liberia and Sierra Leone would have been in the same quandary up till now. In our early days of independence, there was OAU not ECOMOG. We continued killing ourselves in Nigeria and Chad. African countries were our spectators. It would appear we in Nigeria even came to our senses before our brothers in Chad. Our civil war took barely three years. In Chad, it took all of three decades.
To be fair, even before ECOMOG, Nigeria tried to bring peace to Chad which had broken down into countless factions. I remember the peace meetings that were organized at Bagauda Lake Hotel in Kano. I covered some of those meetings as a young reporter in those days. Then I could see the colonial roots of their problems. The factional leaders were a hungry lot. You could see this from the way they attacked their food dishes in the restaurants. They often signed a communiqué but you could not guarantee whether they were going to keep the words they signed after they reached Chad. That country is an expanded Desert, grabbed by the French in their mad rush to acquire African territory. Immediately they got back to Chad, they would repudiate the agreement and go back to their trenches.
Much has been written about the Chadian invasion of of Nigeria in 1983 and the role of our president then Major General Muhammadu Buhari, General Officer Commanding 3rd Mechanised Brigade with headquarters in Jos. The fact is that nobody knows exactly which of the multitude of dueling factions in Chad was responsible for that invasion. This was a country in which nobody could be said to be in control of the time. I have more than a fair knowledge of that invasion. I was a young reporter at the New Nigerian Newspapers detailed to cover the little war.
At the heart of the controversy was Lake Chad and who was to control the resources of this fresh water lake located at the conjunction of Chad, Cameroon, Nigeria and Niger. Historically, it was a Sea known as mega-chad and drained into the Atlantic Ocean through the Benue Valley. The Lake is a multinational property and in 1964 the Lake Chad Commission was set up by Cameroon, Niger, Chad, Nigeria to manage her resources. But with the resources of the Lake itself drying up from a whole sea to a little lake, it has become a source of friction.
The accelerated drying up of the lake is one thing; the mismanagement of national affairs in the four neighboring countries is another. None of the four surrounding countries runs a government that can be said to be a good example of democracy and accountability. I followed General Buhari's all conquering troops as they overstretched the initial presidential mandate of chasing out the renegades who killed a few Nigerian villagers and a fewer Nigerian soldiers at Lake Chad. It was a walkover as we just moved on taking one village after another until we got close to Njamena. The BBC Africa Service repeatedly picked my stories from the New Nigerian newspapers and broadcast them to the world.
At the time of the invasion, Hussein Habre was the internationally recognized President of Chad. President Shehu Shagari came to Abuja from Lagos to meet him at the Akinola Aguda House. I was there to cover the meeting. You could see from President Habre's mien at the meeting that he was not happy about the humiliation he suffered.
Chad is a landlocked country. Her major access to the sea is through Nigeria. When Nigeria closes her borders against her, it hurts badly. That is what President Goodluck Jonathan did in the early days of Boko Haram. That is what President Buhari is doing now. With this background, do you think President Idriss Deby will hesitate to embarrass Nigeria if he had the chance to?