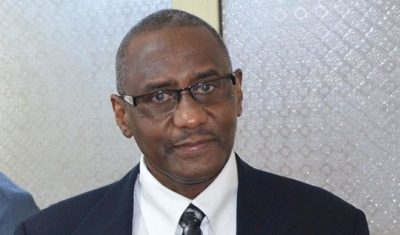 By Tobias Lengnan Dapam
The workers of National Health Insurance Scheme (NHIS), yesterday staged a protest at the premises of the agency's headquarters in Abuja, over the reinstatement of the Executive Secretary, Yusuf Usman.
The workers under the aegis of the Association of Senior Civil Servants of Nigeria and the Joint Health Sector Union demanded that Yusuf's reinstatement be reversed while investigations on allegations leveled against him continue.
The workers said the reinstatement of Yusuf would impede his investigation by the Economic and Financial Crimes Commission, EFCC.
Yusuf who was suspended last year, resumed at the headquarters of the agency in Abuja, prompting the anger of the workers.
President Muhammadu Buhari on Tuesday reinstated Yusuf exactly six months after he was suspended by the Minister of Health, Isaac Adewole, following allegations of gross misconduct.
The chairman, association of senior civil servant NHIS chapter, Razaq Omomeji accused Mr. Yusuf of bringing someone born in 1984 to become an assistant director in the scheme.
Mr. Omomeji said Mr. Yusuf, a professor has poor knowledge on the management of the scheme.
Alowuyi Kayode, Chairman Medical and Health Association Union, also accused Mr. Yusuf of using divide and rule system to transfer staff indiscriminately.
"We believe that this government came to fight corruption. We also believe that whoever must come to equity must come with clean hands. Prof Yusuf's reinstatement behoves much to be desired. Presently he is being investigated by the EFCC and ICPC, so we are appealing to President Muhammadu Buhari to wait for the report of this investigation to be concluded before any further action," Mr. Kayode said.
"If the man is giving a clean slate then he can return but as is it now, all his activities for the past one year has been that of ethnicity, tribalism, religiosity and nepotism. Imaging him transferring over 40 per cent of the staff outside Abuja and replacing them with 300 NYSC members. It leaves much to be desired, so we are appealing to this government as a union of NHIS to reverse this recall while investigation with EFCC and ICPC continues," he added.