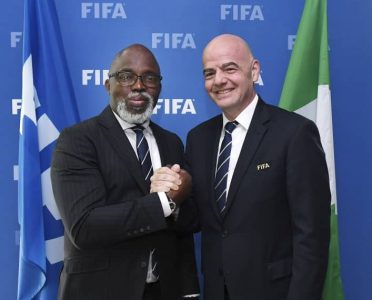 The Nigeria Football Federation NFF/FIFA has laid Mini. Stadium project foundation worth over 1.189 million US dollars in Kebbi State.
The ceremony which took place at the Kalgo road was performed by the Kebbi State Governor and the representative of the FIFA/NFF.
Delivery his remark, the President Nigeria Football Federation Mr. Amaju Melvin Pinnick who was represented by the Secretary NFF Alhaji Ibrahim Musa Gusau said that the project was graciously approved by the World football governing body while described it as the historic capital in Kebbi State.
He added that the life span of project is 6 months while assured the Kebbi State Government that the Contractor is expected to do an excellent job that the people of Kebbi State and Nigeria will be proud of.
"when the General Secretary of the NFF, Dr. Mohammed Sanusi mooted the idea of this project during one of our meeting in Asaba, Delta State in 2018, he presented to the Board a sound argument, and I. Must also give Kudos to the Board for graciously approving his request" he added.
"His Excellency your administration have offered first grade assistance in every process along the line, we appreciate your efforts in empowering the youth" he said.
Also in his remark, the Secretary NFF Dr. Mohammed Sanusi said that the scope of the work at both locations entails the construction of covered spectators stand with players change and medical rooms.
He added further that FIFA One-star artificial football pitch (FIFA Standard) placement of seat, Asphalt paved driveway, parking, Gate, Gatehouse, perimeter fence and landscape.
Sanusi who expressed happiness over the ceremony said that the project will accommodate about 267 seat while 5000 capacity extension will also be constructed.
In his response, the Kebbi State Governor Senator Atiku Bagudu Abubakar said that the project will empower the youth, describing sport as part of the development and unity in the society.
He thanked the NFF/FIFA for the gesture assuring them of more support and encouragement toward achieving the aim AMD objectives.