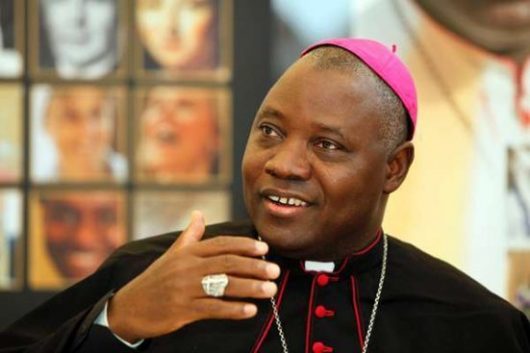 The Catholic Archdiocese of Abuja has a new bishop. He is Rev. Ignatius Ayau Kaigama. He replaces John Cardinal Onaiyekan who retired in November, aged 75. Kaigama was formally installed in his new office Dec. 5 during an elaborate and well attended ceremony at the Catholic Cathedral of the Twelve Apostles, Abuja. He becomes Abuja's third archbishop since the creation of the archdiocese 25 years ago.
In his speech, the 61-year-old Kaigama assured, "I will continue to stress the need to protect the lives and property of all Nigerians and to provide jobs for our teeming youth used by ethnic, religious and political bigots for violence, cultism and other anti-social practices." He challenged political leaders to be faithful to their oath of office "to serve rather than be served; to be closer to their people not only during election times, but to always feel their pain and agony rather than being tucked away in air-conditioned offices or travelling in jets or helicopters to avoid the deplorable roads that are left unmaintained for years or just simply poorly built."
He went on to urge leaders to avoid the tendency to "surround themselves with weapon-wielding security personnel or trained security dogs" as doing so makes them "inaccessible and insensitive" to the struggles of the common people who are at risk of being unjustly treated.
President Muhammadu Buhari, while congratulating the new Abuja archbishop, transferred from Jos, said he rejoiced with the archbishop and wished him well in his new spiritual assignment. In a letter he personally signed, Buhari stated, "I rejoice with you on your appointment as the Archbishop of Catholic Archdiocese of Abuja by the Catholic Pontiff, Pope Francis. With your pedigree as a priest and administrator, I have no doubt that you will make an impressive success of your new office."
Other personalities that felicitated with the cleric included Vice President Yemi Osinbajo, as well as governors Kayode Fayemi of Ekiti, Solomon Lalong of Plateau and Darius Ishaku of Taraba.
They described him as a man of noble character and outstanding humility who played a tremendous role in ensuring peace and harmony in the country.
Osinbajo prayed that the Catholic community and the nation at large experience peace all through his tenure. He also prayed God give to give the Prelate wisdom and good health to enable him lead the church on the right path. Lalong noted that Kaigama, who until his appointment was the Catholic Bishop of Jos, laid the foundation for peace in the state. "I will lose a spiritual guardian. He laid the foundation of peace in Plateau State and I pray God to give him the grace to lead the flock."
Governor Ishaku of Taraba, where Kaigama was born 58 years ago, observed that the new archbishop was wearing two shoes, including "the shoe of peace and that of unity", and asked God to guide him to do the work he had been called to do.
Kaigama's acceptability across the religious divide places him in good stead to lead the Church of Christ. It also gives him an authoritative voice to speak truth to power in the manner he has always done since his ordination as a priest. Leaders may find his home lies a little prickly but would do well to take heed.