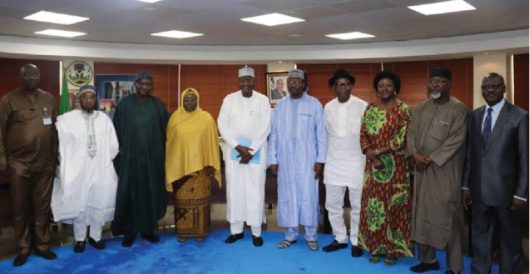 By Lillian Chukwu with Agency report
Against the background of attaining transparent and credible results in the upcoming general election in 2019, the Nigerian Communications Commission (NCC) and the Independent Electoral Commission (INEC) have met to reassess a joint committee on related electoral issues.
The Joint Committee was set up earlier in the year on matters of electronic transmission and collation of results.
Executive Vice Chairman of the NCC, Prof Mahmood Yakubu said in Abuja over the weekend that the collaboration of both strategic government agencies was imperative for a free and fair elections.
The meeting had in attendance the INEC boss, the Executive Commissioner Technical Services (EC-TS) of the NCC, Engr Ubale Maska, national commissioners of the electoral body and top echelon staff of both the two agencies.
Yakubu noted that "remember this joint committee was set up seven months ago. They've worked hard, and the whole idea was to produce a document on the basis of which elections can be conducted in a manner that's conducive, credible, and of course, transparent.
"This can only be done by leveraging the power of Information Communications Technology. So this is to bring to bear global best practices in the way and manner elections are being conducted all over the world," he stated.
Earlier, Yakubu had expressed his delight with the way the Prof Danbatta-led NCC picked up the gauntlet thrown by the INEC as well as the efforts of the joint committee of the two organizations.
"When we started we were clear in our minds that we must challenge every national institution to contribute towards free, fair and credible elections in Nigeria. We are happy that the NCC has risen to this challenge.
"And we look forward to implementing these recommendations. If there are other areas we need your collaborations we hope you will remain open to us to do so. But we are very happy that one major national institution has been challenged and has risen to the challenge," he noted.
The NCC and INEC had in an earlier meeting noted to have the potential of playing a major role in the outcome of future elections in the country reached an agreement on the electronic transmission of results in the 2019 general election.