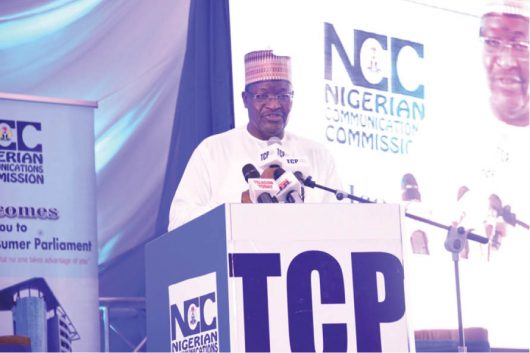 By Lillian Chukwu
The Executive Vice Chairman of the Nigerian Communications Commission (NCC), Prof. Umar Danbatta has said that despite series of initiatives by the Commission to checkmate operators gaps are still being noticed in the areas of quality of service delivery and consumer complaint resolution.
He decried the instance at the 84th edition of Telecom Consumer Parliament (TCP) with theme on "Improving Service Delivery to Telecom Consumers: Key to Industry Sustainability".
The EVC noted that NCC promotes improved service delivered by the operators through close monitoring of the quality of service using key performance indicators and sometimes sanction them for poor service quality.
The event is quarterly in line with the Commission's vision of protecting, informing and educating consumers of telecom services on issues of common interest and current developments in the industry.
The TCP is also designed by the Commission to facilitate interaction on issues of common interest among industry stakeholders and provide opportunity for the consumers of telecoms services to debate, conclude on burning issues in the industry.
Dambatta stressed that the TCP forum ensure constant dialogue with industry stakeholders to help diagnose their challenges and inadequacies and then proffer solutions aimed at helping them to improve on the overall service delivery to consumers.
He said, "I am happy to inform you that key resolutions reached at the 83rd Edition of the TCP held in Lagos in April 2018 have been documented and forwarded to all relevant stakeholders for immediate implementation.
"Some of the resolutions are: Stop Value Added Services (VAS) automatic renewal and forceful subscription, and Implement a 2-step authorization of opt-in process for VAS subscription. On the strength of the above resolutions, the Commission has issued two directions and one of the directions became effective on June 26th, 2018," the EVC stated.
Executive Commissioner, Stakeholder Management at NCC, Sunday Dare reiterated the menace of call masking by some digital mobile operators.
Dare said that once the consumer receives such calls they could simply send the number to NCC by going to the Commission's consumer portal and making their complaints.
The NCC has recently been inundated with complaints from service providers and consumers regarding the high incidence of call masking, call refiling and SIM boxing.
Masking involves concealing international calls coming into a country and presenting them as local in order to make profits from the difference in prices between local and international calls.
The EC, SM assured of timely public service announcement on radio and television for enhanced public awareness.
Earlier, the commission had barred over 750,000 numbers assigned to several private network links and local exchange operator licensees. The number ranges were found to have been utilized for the masking activity.