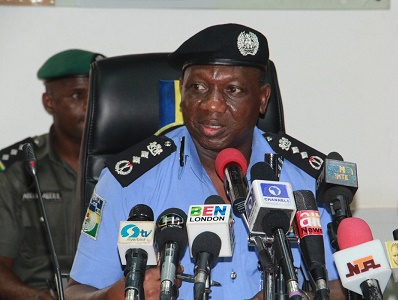 From Femi Oyelola, kaduna
The Inspector General of Police, Ibrahim Idris has said Nigerian Breweries Plc, has rescued Nigeria Police staff college, Jos, from problem of water shortage by refurbishing and rehabilitating boleholes in the school premises.
He stated this during the commissioning of a 60meters-deep bolehole and three 5000 liters over-head tanks, yesterday.
Represented by the Commandant of the College, AIG, Dorothy Gimba The IG said ''when the training of
the Cadet ASP course 27 commenced in December 2016, "we came under pressure in the college due to water shortage and we were almost at our wits end until Nigerian Breweries got wind of our challenge and came in to offer help.
"We appreciate immensely Mr. Kufre Ekanem, the Corporate Affairs Adviser of NB Plc for choosing our college as a beneficiary of their nationwide interventions''
AIG Gimba further revealed that ''not only did the Nigerian Breweries Plc give us two water pumps, they also paid for the reticulation and piping of the water from the mess, kitchen area to officers quarters''
Also Speaking, the Commissioner for Commerce and industries, Mr. Usman Yakubu Idris, who represented the Executive Governor of Plateau state said other corporate bodies in the State should follow suit by replicating the gesture of Nigeria's foremost brewing giant, Nigerian Breweries Plc, in the State. He also charged the management of the Police Staff College Jos, to ensure proper management of the water projects.
In his address, the Managing Director of Nigerian Breweries Plc, Mr. Jordi Borrut Bel, who was represented by the Corporate Affairs Adviser, Mr. Kufre
Ekanem, maintained that ''as a good Corporate Citizen, we have entrenched in our CSR programme, the provision of some vital value-adding social amenities that would enhance the overall well-being and quality of life of the communities in our dear country, Nigeria".
''All over the world, the provision of portable water is very essential to the healthy living of any community, thus the reason why we embarked on the water borehole schemes for our various Communities and stakeholders across the country".
Ekanem said '' this water project which we are all gathered here today'for the commissioning ceremony, is indeed, a clear manifestation of'our company's commitment to provide this vital commodity of life,
water to the staff and students of this college, in line with our CSR'philosophy of "Winning with Nigeria".
On the choice for the project, he said '' the choice of the Police Staff College for this project is not farfetched. This College is a great citadel of learning for the Police force where our men are'further professionally trained and prepared for their life-long tasks of securing our people and nation''
''Nigerian Breweries Plc remains unwavering in its commitment to being a socially responsible Corporate Citizen of Nigeria. As a genuine partner in progress, we shall continue to identify with the aspirations of our various stakeholders and our host Communities across the country'' he added.