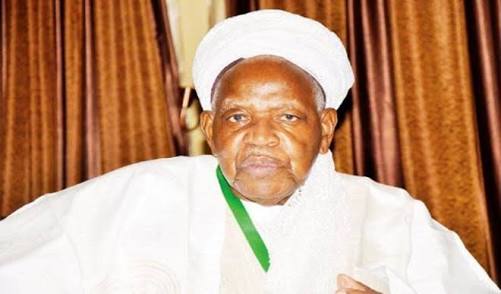 Justice Mamman Nasir, a leading light of the Nigerian judiciary, has died out. He passed on Saturday April 13 after taking ill and was admitted to the Federal Medical Centre in Katsina. He was buried the same day in his hometown, Malumfashi.
Justice Nasir's death, at the ripe age of 90, came 27 years after he retired as President of the Nigerian Court of Appeal in 1992. He was head of the court when the military was in power and took keen interest in how the judiciary as a whole functioned. Nasir never wavered even under such difficult circumstances and did manage to hold his his own. President Muhammadu Buhari remarked on Nasir's courage of conviction in a tribute on the late jurist: "[He] was one of the most astute public figures. He was ever ready to attend to any conciliatory assignments and had innumerable solutions to knotty problems. He seldom lost his temper and always looked on the positive side of things." After retirement, Nasir did not disappear completely from public view. He was still called to several public duties, including serving as the co-chair of the Constitution Review Commission that drafted the present federal constitution enacted by the military in 1999.
In 1992 when left public office, Nasir became the Galadiman of Katsina and District Head of Malumfashi at the same time. He was turbaned May 9 1992.
Nasir was born in 1929 in what is today Katsina State. He attended Kaduna College where he obtained the West Africa School Certificate in 1947 and later attended the University of Ibadan, where he obtained a certificate in Latin. He proceeded to the Council of Legal Education where he received the Bachelor's Degree in Law in 1956, the same year as he was called to the Bar, Lincoln's Inn. He returned to Nigeria in 1956 and was appointed a Crown Counsel. In 1961, he was appointed as Minister of Justice, Northern Nigeria, a position he held for five years before he became the Director of Public Prosecution in 1967, the same year as he was appointed Solicitor General, North Central State. He held that position for seven years before he switched over to the bench of the Supreme Court of Nigeria as Justice in 1975.
In 1978, he was appointed as President of the Court of Appeal, a position he held for two decades.
A household name, Justice Nasir, even in death, will be remembered by Nigerians forever, as the Emir of Ilorin Alhaji Ibrahim Sulu-Gambari wrote in a tribute.