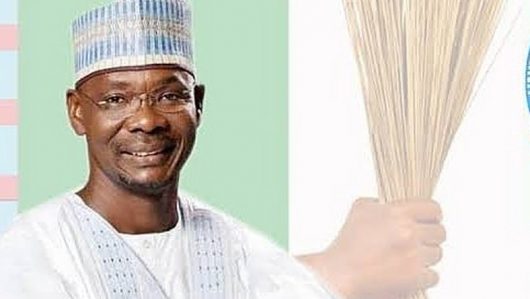 Tuesday Column By VICTORIA NGOZI IKEANO
vikeano@yahoo.co.uk | 08033077519
In this 21st century when virtually everything is powered by technology, a new term has emerged –digital economy – which simply business transactions on the internet or electronic transactions. Virtually all human endeavour is going electronic, the biggest of which is perhaps, the business of government. Thus we now have e-governance (electronic governance). Last November during the e-Nigeria conference in Abuja, President Mohammadu Buhari launched the e-government master plan and Nasarawa state was chosen as the pilot state among the 36 states, to implement this master plan. This is not surprising given that the Nasarawa State governor, Engr. Abdullahi A. Sule who was managing director of a publicly quoted Nigerian conglomerate had lived and worked for several years in the United States where everything is done electronically. And upon assuming office as governor last year, the governor upgraded and expanded scope of the states information, communication and technology (ICT) agency to cover virtually all aspects of governance, among them, e-agriculture, e-education, e-health. He even won the digital governor award. The Nasarawa state Bureau for ICT is charged with information technology (IT) regulation, formulating the state's ICT policy, content promotion, etc. At the National Council of Communication and Digital Economy meeting in Gombe the state was adjudged the best in ICT capacity building and the second best in ICT infrastructure.
Hon. Maryam Mohammad Gajere, the senior special assistant to the governor on ICT in a chat with this writer gave an insight into activities of the ICT agency and how the state is leveraging on ICT to boost its internally generated revenue, empower its citizens, etc. On how women can benefit from ICT, she noted that women are often engaged in trading, even at home, "ICT can help them market their goods and services". She added that Nasarawa state had hosted the Nigeria Information Technology Agency (NITDA) Gender Entrepreneurship programme for the north central zone. This programmed trained about 100 women in ICT. They gave them laptops and also some stipends. The training was all about ensuring that women are not left behind in the ICT capacity training so that they can use it to transform their businesses. They were taught digital marketing, both design and development and basic computer training. The training gave them the knowledge of how to create websites to market their businesses, how to use social media handles to sell and advertise products", she explained. According to her the first function that Governor Sule undertook was on women empowerment, adding that the government is doing a lot to see that women in Nasarawa state are ICT compliant and leveraging on ICT to transform their lives and curb poverty.
With regard to the educational sector, Hon. Maryam Gajere disclosed that Governor Sule is partnering with Microsoft to renovate and digitalize Nasarawa schools. "Every school is going to have a computer laboratory; the governor wants to catch them young in terms of ICT knowledge, from primary to secondary".
Commenting on e-agriculture, the SSA intimated that the state is about to create a data base of all farmers including cooperatives to establish an e-platform through which it can interface and deal directly with the farmers. This will enable it to get soft loans, inputs like fertilizers, etc., delivered directly to genuine farmers rather than have them hijacked by middlemen. She stated that the government is promoting mechanized agriculture and that such commercial farmers would be able to hire tractors and other heavy equipment from the ministry of agriculture once the platform comes on board.
Asked how Nasarawa state is boosting its internally generated revenue through ICT, Hon. Gajere replied, "We now have full implementation of the Treasury Single Account(TSA) which is a central billing system; all revenues are accessed and pass through the central billing system which enables the state government to know what is going into the treasury and what is going out and allows the government to leverage on other sectors in the state that will add value to the digital economy. The state already has a blueprint called the Nasarawa State Economic Development Strategy NEDS of which ICT is the engine to drive its implementation.
"The state generates over ten million naira for each session of the Unified Matriculation Board examination at its CBT centre. By the way this is the only state-owned CBT centre in the country. Also the ICT hub that the state governor, Engr. Abdullahi Sule flagged off is another way of increasing the state's revenue through the digital economy; so the digital drive which Nasarawa state has keyed into is bringing a lot of returns in terms of revenue generation".
Concluding, the Gajere urged all Nasarawa citizens to be ICT compliant because everything about this government is digital transformation. "Now that the country is moving from oil and gas to digital economy, Nasarawa state will not be left behind in transitioning to digital economy. Nasarawa state is going to be an ICT hub entirely; from e-governance to e-education, everything is going electronic and this e-governance is going to bring about transparency, accountability, effectiveness and efficiency in discharge of government's duties and responsibilities".