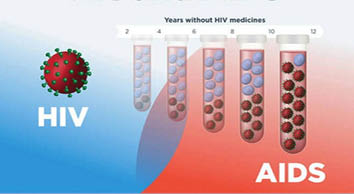 By Tobias Lengnan Dapam
The National Agency for the Control of AIDS (NACA), has called on state governments to honor the promise to make funds available for the treatment of people living with HIV/AIDS within their states.
NACA Director-General, Sani Aliyu, made the call on Monday in Abuja, while speaking during Wole Soyinka's "Keep the Promise" to AIDS video campaign.
At the Programme organized by the AIDS Healthcare Foundation (AHF), Aliyu disclosed that although Nigeria has come a long way in the fight against HIV/AIDS, about 95 per cent of the current funds for the treatment of patients with the disease in Nigeria, were provided by the United States Government and foreign donors.
While lamenting the decline in foreign funding for the treatment of the disease, he urged state governments to honor the promise made earlier in the year, to contribute one per cent of their monthly federal allocations to the fight against the disease..
According to him, the objective of the ongoing national HIV survey to help arrive at a relatively accurate statistics on the burden of the disease and provide adequate treatment plan for all the people living with the disease, would not be achieved if state governments fail to fulfill their promise.
"The government of Nigeria actually started putting people on treatment but not long after, partners, particularly the US government, started supporting. We now have about 1.1 million Nigerians on treatment for HIV and most of them are doing well, all thanks to the availability of treatment. But the treatment is being funded predominantly by the US government and Global Fund.
"As far as government is concerned, access to HIV treatment is a right because that is what will enable those living with HIV to survive. Everybody has a right to life and right to life for people living with HIV includes access to medication," he said.
The Country Director AIDS Healthcare Foundation, Echey Ijezie, said there was a need for policy managers of HIV in Nigeria to step up efforts to own the process by ensuring access to HIV treatment and prevention services was enhanced.
While quoting the UNAIDS data which states that 36 million people were currently living with AIDS globally, and the prediction that 100 million people would have been infected with the HIV virus by 2030, he argued that despite this alarming number, the world has made great strides in HIV treatment, and it was no longer a death sentence.
"In Nigeria, we are happy about the impressive effort the government is making to bridge the gap, but importantly, government at the state level must join this effort and fund AIDS in their respective states. The same for the private sector," he said.