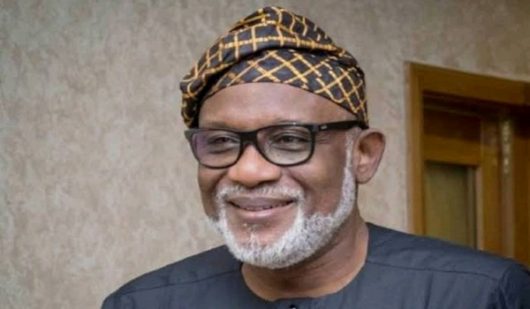 By Ikechukwu Okaforadi
Ondo state governor, Rotimi Akeredolu, has said that even with his borrowing to finance development projects in the state, his second term ambition is not under any threat.
The governor said it is erroneous to claim that he may be rejected either at the All Progressives Congress (APC) governorship primary or at the October 10 election on the account of borrowing to facilitate developmental projects for the benefit of his people.
Akeredolu said this at the national Secretariat of the All Progressives Congress (APC) on Tuesday after returning his nomination form to recontest for office.
The governor said no serious administrator can do any meaningful work without borrowing because governments at all levels are not financially sufficient to cater for state needs.
He cited example of states in Nigeria which he said cannot do all they set out to do due to paucity of funds.
The governor said " even oil rich states with allocations from the federation account and internally generated revenue cannot boast of funding every project without taking loans either locally or foreign.
"Not even a nation can do without borrowing. A nation like the United States does borrow. They are the greatest debtors.
*We met a lot of debt on ground and we are settling them. We floated a N30 billion bond but secured N15 billion which was spent on infrastructural development".
"We have participated in politics bearing in mind the overriding interest of the people. We have never, at any moment, allowed parochial considerations becloud our vision for optimum service delivery. We have invested massively in infrastructure to bridge the embarrassing deficit.
Meanwhile, other two aspirants, Ambassador Sola Iji and Prince Jimi Odimayo also on Tuesday obtained expression of interest and nomination forms to contest for the Ondo APC ticket.
Iji said the state governor, Akeredolu has done his best but the state needed a fresh hand to take care of deficiences in Akeredolu's administration.
"There is a lot of work to be done. If you look at the state of education in our Ondo state, parents are crying because of exorbitant fees that we are charging in state university and of course we ought to make education accessible to the majority of the citizens of the state.
On his own part, Odimayo said he is in the race to change the narrative in governance in the state.
Considering the factions in the state chapter of the party, he promised to bring warring factions together and make APC stronger to contest elections while promising that his candidacy will ensure victory for the party.