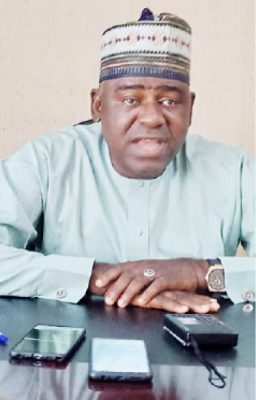 Hassan Baba Etsu is the Niger State, Rural Access and Mobility Project (RAMP) State Project Coordinator. In this interview with some journalists in Minna, he spoke on the RAMP 2 program and other sundry issues. Yakubu Mustapha Bina was there for Peoples Daily and brings you details.
How far about RAMP -2 program in Niger state?
So far so good we have been able to deliver our project as the major and we are able to improve rural transportation over the years in the rural areas and to impact positively on the lives of rural dwellers. You are aware about our interventions, we conducted a base line to access the situation of the people leaving in the rural areas and after intervention we still went back to the same people to carry out the same assignment and we discovered that before our intervention the rural dwellers couldn't travel from one point to the other, there are communities that ordinarily you can access within 30-40 minutes but because bad access roads it takes 4-5 hours before you access such communities. For instance, Kutigi to Tashi Hajiya road before the intervention of RAMP it takes no less than 5-6 hours for you to access Tashi Hajiya from Kutigi but today after the intervention you can access within 45 minutes.
So, there is drastic reduction in travel time which has accounted for travel cost. We have also witnessed significant improvement of the economic activities of people leaving along our road corridors farmers can now move easily to their nearest markets and we also witnessed pumper harvest because farmers can access farm implements like fertilizers, herbicides and others because they now have good access roads accounting to pumper harvest. So, because of the intervention too we discovered that women who are trying to put to bed (in Labour) find it difficult to easily access primary health facilities due to bad roads, some pay supreme sacrifice (loss of lives) but now that has reduced by about 60%.
We have as well witness increase in school enrollment because of good access roads, so this are some of the impacts we are able to create that include direct and indirect employments for over 600 people. We have linked over 420 communities in Niger state, over 900,000 people have benefited from our projects and we have opened up many rural roads in the state for better social and economic activities.
When you ply our road corridors, you will witness new settlements because we have put the roads in shape people are coming to settle along the roads. Like I said earlier our Community Based Road Maintenance where we engaged about 600 people who are watching over RAMP roads we are paying them monthly stipend of N20, 000. These are some of our achievements.
How many kilometers of road have you constructed and how communities have you impacted on?
We have constructed over 600 kilometers of roads in the state and we have constructed over 30 number crossing bridges and culverts of various sizes and we also to guarantee the sustainability of the projects. There is what we call Community Based Road Maintenance we engaged people for routine maintenance and by clearing the vegetation along the roads so as to clear the visibility of the road users and also maintain the culverts, patching of some pot holes. They are young people we identified, trained and well equipped who are right now in charge of our roads maintenance.
Some of your workmen were kidnapped, how has insecurity affected your job?
Insecurity has really affected our work because it has slow down our work. Ordinarily, especially the contractors handling our second face of our roads, the stipulated time frame is 18 months agreed for the construction of the roads, unfortunately, we didn't achieve that because of the insecurity we experienced in the state. Although, the effect was not peculiar to Niger alone and not everywhere was affected.
Unfortunately, three of our policemen were abducted around Kampala Bobi road while working on the bridge site, but due to quick response from the Niger state government in conjunction with the security agencies they were rescued. Since then, with the conjunction with our development partners (World Bank) we've developed a kind of strategy to engage a project security coordinator who is like a consultant to provide to all our site well armed security (Policemen) that are securing our workers, contractors, consultants and even the roads maintenance work force. We don't want to take anything for granted because our development partners take the issue of security very seriously. So, following that unfortunate incident we have been able to engage an experienced security expert a military retired officer who is coordinating our security arrangements and since then we've not experience any security threat. We have been very proactive that's why not only Niger state other five participating States under RAMP 2 so here in Niger state we don't have security threats therefore, when we are going for monitoring by our officials we are accompany by a well armed security personnel.
But we had the course to relocate some of our project like the initial 55km contract from Padongari to Bassa road due to the activities of armed bandits around that axis 25km into the work the military advised that the contractor should stop work because they would be carrying out military operations in that axis, so we relocated the project to Makujeri Tungan Bako roads. Let me inform you that we received good cooperation from the security agencies especially the Commissioner of Police (CP), SSS and NSCDC to have a safe working environment for our workers.
It surely cost us more money in to the project and that is why moving forward in the next face of RAAMP what we intend to do is to see how we capture the issue of security as a cost. Contractors will have to provide security so there was no provision for security so we have to go extra miles to provide some money to take care of some of these security arrangements.
Recently, you received an award, what is the composition of this projects and its arrangements?
RAMP is a core finance initiative of the World Bank and French Development partners aim towards improving transport condition of the rural areas by construction and rehabilitation of key rural infrastructure. So, Niger state is one of the participating states with Osun, Imo, Enugu and Adamawa and each of those participating states is suppose to be 60 million dollars per state.
Niger state have just completed the implementation of RAMP 2 on 31 December, 2020 and interestingly, it is good to note that we were given targets as enshrined in the project and project document for us to construct just 370 km of roads and 16 number river crossing but we in Niger state surpassed our target documents by our development partners. We constructed 360 km of roads and construct 30 number river crossing. So, that earns the state letter of commendation and some series of award as best implementation amongst the implementors of RAMP. So for Niger state, I must say and confess without missing words that the state government has been doing very very well. What the governor is doing is unpresidented, today, the state government has injected over N6 billion for us to surface dressing of some of this roads constructed by RAMP, this is to guarantee the sustainability of the investments in the state.
You know the nature of our roads when it lacks literal and the concept is to have a standard roads. You know Niger state falls within the rain forest and when you have literal roads because of our typography and nature of the state if roads are left unpaved it hardly survive 3-4 raining seasons so therefore, Niger state provided funds for us to surface dressed them like Kutigi Teshan Hajiya 55km road, Sumaji Lemu road, Farindoki road, Abuchi Izom to Fadama road, Kampani Bobi and a host of others for over 440 km so far surface dressed roads constructed by RAMP in Niger state. So, this is worthy of commendation therefore, I must commend the effort of the state government because of governor Abubakar Sani Bello's passion for rural development and that's why he injected such huge amount to improve the lived of rural dwellers.
Can you explain the situation of the counterpart funds of the state?
Let me tell you that the Niger state government has paid all its counterpart funds, we have even exceeded our payments and that is why the state government is being considered to key in to its next stage of Rural Access and Agricultural Marketing Project (RAAMP) and any moment from now we will commence. So that is why we have advised the state government even though we have completed RAMP 2 in the state not to disband the state project opportunity because their staff are well trained, we are just waiting to hit the ground running as soon as we commence the 3rd face of RAAMP which the state government has paid it counterpart funds as at when due that made it possible to consider Niger state for the next face of the programme.
What are your fears as you progress in the project?
My fears is that, now that we have this investments, our fear is that we have people working for us over 600 unemployed people all over the state and we are paying them N20,000 monthly stipends, some of them earn their leaving from this payment. So, what happened to these people if disbanded especially now that our development partners are no longer in the business? They have pulled out by the end of agreement, can we sustain them carrying out the road maintenance constructed by RAMP if not what happens to this roads. You can recall on the days of DFRRI during IBB regime because today you can hardly trace such lofty projects because there was no defer for sustainability arrangements. So in this situation in order to sustain and guarantee what we have on ground especially the community maintenance arrangement which can be sustained by the state government and we will see how RAMP will be transformed into the state Rural Roads Development Agency that will be responsible for the maintenance of some of this roads in the state.
Already, recently we have in conjunction with federal ministry of agriculture, there is this law road manual developed in all our local governments we have directorate of works what they do in terms of rural roads. They only come up with their graders and clear the roads. That is not the case here, we are trying to do what is internationally accepted that's why we have to deploy best practices in the rural road management. In this law volume road manual, there is maintenance manual, construction, design. So in this case, the working document will be made available containing everything about rural road construction. For instance, the specification of road weight, type of culverts constructed to have standard that will be adopted by the local governments in the state. The agency we are looking at will now motivate the development of rural roads. A bill has been sent to the state assembly and it has scaled through a second hearing and hopefully before the end of first quarter of this year the bill will be passed and possibly accented by the governor. By the time we have the law in place we will have a Rural Road Maintenance Agency so as to consolidate our achievements and we will be able to maintain this roads and open up more rural roads. So, that's what we are doing in the state.
What is the size of RAMO 2 in terms of monetary value?
The facility is 60 million dollars and it is pertinent to know that it is not a grant it is a credit that will be paid by Niger State so this is Niger State Government thing wholly contrary to believe that World Bank investment alone they are in business too. They have investment also and it is credit to be paid over a period of 30 years in which all the 25 LGAs benefitted from the 60 million dollars project.
What are the major challenges confronting your organization?
The major challenges are the issue of weather. The weather here is not favorable for road construction. You know we witness heavy rainfall last raining season and that resulted to the flooding of some section of our roads even though we have fixed them. I think it's a challenge but is beyond us and even our contractors. I also think the issue of insecurity which is not peculiar to Niger state has slow down the pace of project implementation. I think basically we need to sensitize our people and the challenge here in Niger state and this year Osun state is implementing the Sam project, our state size is three or four times size of Osun or bigger than the size of entire South East so considering its infrastructural deficit coupled with the size there is agitation for the state government to look for more multinational partnership so that it can leverage on that to deliver infrastructural deficit facing the state.