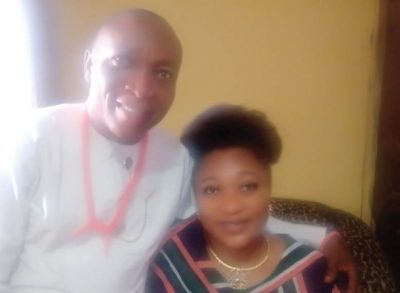 In this interview with Mr. Okere Eugene Okechukwu, whose wife, late Mrs. Late Doris Okere, who was a cashier with the then Bank PHB, Wuse zone 1 Branch was killed by a trigger-happy Policeman, in Mpape, a suburb of Abuja explains how his pursuit of justice had hitherto prevented him from re-marrying, nine years ago. Mr. Okere, who is an indigene of Imo State, was interviewed by our correspondent, Stanley Onyekwere, at the weekend, during a Thanksgiving service at the Holy Trinity Anglican Church, Mpape, Abuja, as he remarries, seemingly ending his widower's status. Excerpts:
What would you say informed your decision to remarry after almost a decade of 'forced' singlehood ?
Oh it's it true that I have stayed nine years without a woman, since the killing of my wife and mother of my son.
I have looked at the unfortunate situation, and I promised that before I do anything, I must ensure that justice is done to what th the Nigerian Police did to me. To the glory of God Almighty, and by His grace that have been done to a large extent, as the man (trigger-happy cop) was sentenced to prison (12-year-old term), after the court found him guilty. On the other hand, the civil matter instituted against the Nigerian Police, the High Court did justice by awarding the sum of one and fifty-one million Naira. Although they ( Police) went to higher court to appeal the decision. But I know that the court is still the last hope of the common man, and at the end of the tunnel, we must equally have victory. And based on that, every stage is set to roll on, I decided to look for a credible woman that would take care of me and my son. This is what informed my decision to move on from the unfortunate incident occurred in the early morning of January 31, 2011.
So far would it be appropriate to say that you're satisfied with your pursuit of justice, or are you still waiting for the balance of justice?
Yes, we are waiting for the balance of justice. Like I said, the civil matter is presently pending before an Appeal Court sitting here in Abuja. Uptill now we are still appealing meaningful individuals and non governmental organizations that they should still be pressing on the issue, to see if government will really intervene, so that the judicial process can be cut short, and the end of the tunnel can be achieved.
In a nutshell, can you talk about how you found and fail in love with your current wife after eight years..
Oh, okay. First and foremost, she is formerly miss Vivian Boma Halliday, and presently Mrs Vivian Okchukwu Okere. She hails from Rivers State with Imo State background. And with what I have seen so far in her, I'm satisfied. From the first day I met her, I made her to be aware of my situation, and the son that had with my deceased wife is now her first child as she is 'mothering' him and at the same time I myself.
And if I may recall, I think myself getting entangled in a relationship with this my wife today is a miraculous event. We did not hold a very long courtship, but I found out that when God Almighty wants to do something, He would do it in a very miraculous way. It is as if it was a dream; and same it's not a dream, the whole thing finally came to pass, and we we have wedded. I believe she is a God-sent woman to me.
To the glory of God Almighty, she knows the situation on ground. She is aware of the family background and the huddles we have faced in the past. And having known all these, I'm aware that she has equally resolved that she would able to take the challenges squarely. I'm appealing to meaningful Nigerians that should equally come to aid and intervene, so that the needful should be done, instead of delaying this justice. This is because, it is a very defined matter, in which there was a high level of public outcry, so that we can really concentrate very well on this new dawn called marriage that God Almighty has offered to us.