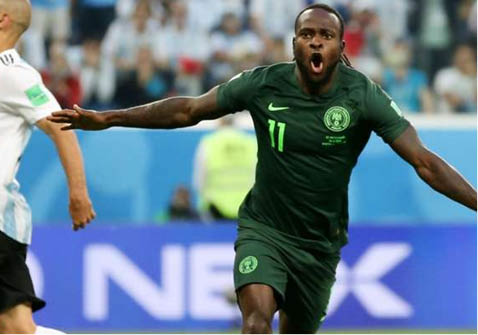 The Nigerian winger/wing-back victor mosses has announced his decision yesterday having had a few months to reflect on the country's World Cup campaign to retired.
Nigeria were eliminated at the group stage in Russia after a late Marcos Rojo winner saw Argentina beat them 2-1 in their third and final match. Moses scored his country's equaliser in that game.
Earlier in his international career, he played an important role as the Super Eagles won the 2013 Africa Cup of Nations and made it to the last 16 of the 2014 World Cup.
"I have experienced some of the best moments of my life wearing the Super Eagles shirt and have memories with me that will last a lifetime. Nothing will ever compete to what it felt like to represent Nigeria on behalf of our country.
"However I feel that now is the right time to step away in order to be able to focus fully on club career and my young family as well as to allow the next generation of Super Eagles stars the opportunity to step up and to flourish.
"We are blessed as a nation to have so many exciting young players coming through and now is their time.
"I have already spoken to the manager by telephone and would like to say thank you to him and his staff, the NFF and all of my teammates for all of their support over the years.
"Most importantly I would like to say thank you to the Nigerian people for believing in me and supporting me over the years. It's meant the world to me and my family and I will always be a proud Nigerian supporting the team.