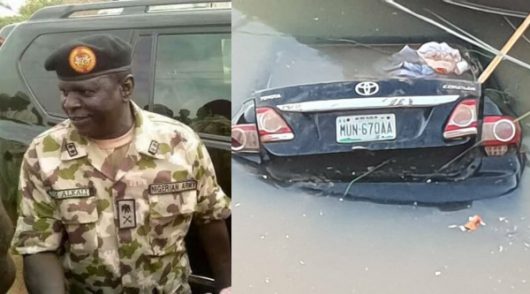 From Ado Abubakar Musa Jos
A blood stained T-shirt with an inscription, Major general Muhammed Alkali and boxer was on Saturday found in the car of missing Major General Muhammed I. Alkali.
The car of the missing Major General was discovered by combined security agents in a pound located in Dura Du area of Jos South Government Area of Plateau state.
The Major General was reported to have been missing since September 3, on his way from Abuja to Bauchi state when he followed a bypass leading to Dura Du area of Jos South and since then, the army began to search for whereabouts of Alkali.
Major Adam Umar, spokesperson of Operation Safe Haven (OPSH), confirmed that the car was found in the suspected pond.
"The car of the missing Major General Muhammed Alkali, has been discovered following a thorough search by combined security agents in the suspected pound, in Dura Du, " the spokesperson said.
This is the second week since the security agents have been searching the general and his car.
Since the incident occurred, the army suspected that Alkali could have been killed and dumped in the said pond hence the military to intensified search of the corpse in the said pond.
The evacuation of the water was vehemently protested on Friday last week by women of the Duru Du area who claimed it has an ancestral history and therefore can't be evaluated.
But the army vowed to continue to search for the corpse of the missing general.