By Albert Akota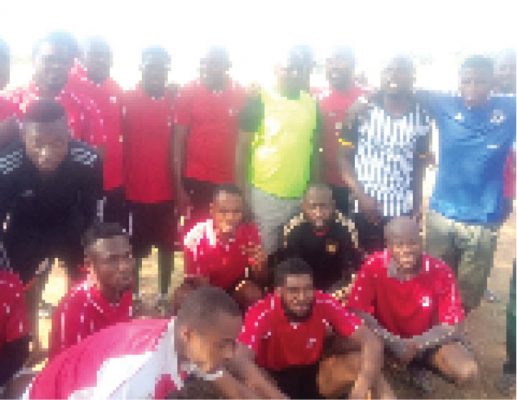 Mint bombers FC of Abuja escaped defeat from 22 Elders FC of Abuja in a friendly match to round off 2018 sporting activities over the weekend at mint mini stadium in Abuja.
The unique friendly match which started at 9:30 am on Saturday with both sides well kitted witnessed the visitor leading with a fantastic goal at 15minutes into the first half from James Ajibola to announced 22 Elders FC arrival and determination for the match.
Although, the home team came out with agility to scored three goals to around off the first half of the game 3-1 following articulated instructions of a season coach of mint bombers Ankan Bashiru.
At the resumption of second half after good instructions from the team captain and changes Imoh Victor, the visiting team, came from 1-3 to level it 3-3.
Despite the hint of the match from both sides, the match officials led by Eminike Nnam stood his ground without fear, intimidations or favor from any sides to ensure smooth of the match,
The visiting team scored two goals within 10 minutes to level it 3-3 through Okechukwu Nwagu known as English and Kenneth Peter respectively in the second half of the match.
22 elders FC was however conducted with the helped of experienced, Femi Martins, Barrister Peter Nwokolo, Imoh Victor, Segun Akindeju, Daniel Okwo, Kalu Ukwa and Ekene Okoro to ensure the team return to it based with happiness without defeat.
According to the home team coach, Bashiru Anka who regretted the outcome of the match said the secret of his team in keeping unbeaten at home was hard work, regular training and togetherness.
He added that the cause of the draw was bad officiating and bad substitution of goalkeeper, the keeper didn't prepared for the ball before it was kicked, the referee supposed to disallow the goal, goal keeper is not like other players.
If a player is injured you can take him out and continue the game until when he is ready to play and when he can't he would be substituted but if a goal keeper is injured until he was treated and if he can't play you substitute him, " Anka noted.