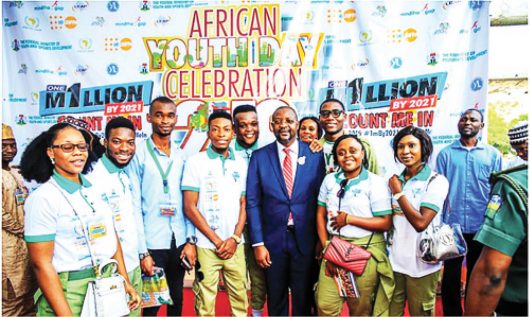 By Albert Akota
Minister of Youth and Sports Development, Mr. Sunday Dare yesterday in Abuja launched "a New DEEL" for the Nigerian Youth at the celebration of African Youth Day 2019 where the initiative to position Nigeria's youth population for contemporary challenges was unveiled.
The Minister told the gathering of youth at the event that DEEL will equip about 500,000 Youth with digital skills- basic, intermediate and advance skills in the areas of web design and management, software training, cloud computing, artificial intelligence, App development, mobile device repairs, Artificial intelligence, coding and Data processing.
He said "President Muhammadu Buhari's new DEEL for Nigerian youth connects with the African Union's theme. What is this new DEEL? D stands for Digital literacy and Skills Acquisition program. E stands for Entrepreneurship. E stands for Employment. L stands for leadership and mentoring.
"Mr. President's has a new DEEL for the youth; and it starts today! This month offers a new vista of new beginnings; replete with exciting bouquets of offerings. Whether your interest is Digital Skills, Entrepreneurship, Employment or you are passionate about Leadership, governance and inclusion, there is something for everyone in the new DEEL.
The digital revolution offers an unparalleled opportunity to drive a new wave of international economic growth for countries that have hitherto not fully enjoyed the benefits of the global economy." He explained.
The Ministry of Youth and Sports Development is working with government institutions, private initiatives like Junior Achievement Nigeria (JAN) and business organizations to provide training and employment opportunities to youth. United Nations (UN) Compact will collaborate with the ministry on YSIP – Young SDG Innovators Program beginning from March next year.
The Minister disclosed that "We at the Ministry will begin this process through one of our strategic implementation partners Junior Achievement Nigeria as soon as an agreement is delivered to leverage on their 64 digital hubs spread across the country.
The Ministry will also activate its Youth Development Centers across the country for Entrepreneurship Skills training.
"Today, we begin the new DEEL process through the Work Experience Programme (WEP). It is intended to connect in the next one year 5,000 unemployed graduates with employers by placing them in the corporate world on internship capacities for a short period.
We hope that through this window, they will acquire the basic work-place experience that will increase their chances of landing a job. I therefore call on all companies to sign up with us and offer the chance for our youth to smile," Mr. Dare urged.
He promised that his ministry will address the challenge of maintaining the relationship and sustain the partnership that are driving the initiative by sustaining an ecosystem of State and non-state actors in each thematic area of the National Youth Policy, which will evolve into the National Youth Policy Implementation Network.
DEEL was unveiled to a positive reception at the African Youth Day with Mrs Maryam Uwais, Special Adviser to the President on Social Investments, affirming her office's commitment to collaborate with the initiative.
Minister of Information, Alhaji Lai Mohammed; Minister of Women Affairs, Dame Pauline Tallen; Minister State for Budget and National Planning, Mr Clement Agba,
Minister of State for Science and Technology, Barrister Mohammed Abdullahi; Chairman House Committee on Youth Development, Honourable Yemi Adaramodu; and Chairman House Committee on Sports, Hounarable Olumide Osoba attended the event and expressed their support for the New DEEL.