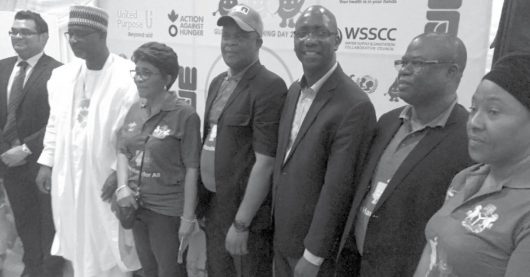 By Tobias Lengnan Dapam
Minister of Water Resources, Suleiman Adamu has advocated better hygiene in the country.
The minister spoke yesterday during the Global Hand-washing Day organized by the world's leading antibacterial brand Dettol, in collaboration with the ministry.
October 15 every year is designated as Global Handwashing Day by the United Nations General Assembly, with the aim of raising awareness on the importance of hand washing with soap as the life line of our well being.
This year's event themed 'Clean Hands for All', attracted healthcare professionals, schools and other stakeholders.
It is in this light that Dettol, earlier in the year, unveiled a new hand wash station at the popular Ojuwoye market as part of activities for its Clean Naija Initiative, a campaign that advocates for better health and hygiene for all. The ultimate goal is to pass the message that regardless of age, ethnicity or socio-economical status, everyone can stay happier and healthier just by cultivating the simple habit of thorough hand washing.
The minister said the Global Handwashing Day is an international advocacy day dedicated to increasing public awareness and understanding about the importance of washing hands with soap, as an effective way of preventing diseases.
"The essence of today's activity of engaging with children is in recognition of the role that children can play as agents of change in mcultivating the good hygienic practice of washing hands with soap at critical times.
"Children are more vulnerable to sanitation and hygiene related diseases like diarrhoea and pneumonia for children below the age of 5. The 2017 Multiple Indicator Cluster Survey indicated that about 43.6% of children under the age of 5 are moderately and severely stunted. Stunting is the impaired growth and development in children, due to poor nutrition and recurrent or chronic illness.
"Children with frequent diarrhoea episodes are less able to absorb nutrients from food. There is need to intensify Hand-washing with soap to reduces the incidence of diarrheal diseases and the outbreak of many communicable diseases such as ebola and lassa fever. Adopting the behaviour of hand washing with soap is adjudged as one of the most effective and inexpensive ways to prevent disease, cutting deaths from diarrhoea by almost one-half and deaths from acute respiratory infections by nearly one-quarter.
"These compelling evidences are enough to spur caregivers to adopt this life saving and cost effective habit of hand-washing with soap."
He said the country need to maintain proper hygiene, as he called it a patriotic act. "We appreciate and support RB and Dettol for their relentless effort in fighting for better hygiene in Nigeria. We hope to build a greater level of awareness and achieve behavioural change amongst Nigerians, such that will lead to more hygienic practices and ultimately, a healthier population."
"At the federal level, we have demonstrated the political will but federal government is not primarily the one that has the responsibility for providing water and sanitation for the opoeple. it is essentially the responsiblity of the state and local government. We do intervene, we complement their effort. But that is not to say that states should abdicate their responsibility and leave it to the federal government."
He said the president has declared a state of emergency on the wash sector to bring to the attention of the main providers of these services the importance in investing more in water and sanitation.
In april this year, the national campaign to end open defecation was launched. In 2017, we started with only one LG that was open defecation free. Today we have 14, and we will sustain this progress.
On his part, the Marketing Director, Reckitt Benckiser West Africa, Mr. Syed Tanzim Rezwan added that, "Dettol understands the importance of good hygiene and sanitation in the lives of Nigerians. The Clean Naija Initiative was developed as an integrated multi-level campaign with the aim of creating awareness, education and driving behavioural change to achieve a cleaner and healthier Nigeria."
RB Nigeria, through its Dettol brand, already has a number of programs committed to tackling some of these issues. They include: The School Hygiene Program, through which RB has educated over seven million children on proper hand hygiene habits over the past 7 years, and the New Mum's Program, through which RB has educated over five million pregnant and new mothers on hygienic practices to protect them during the pre- and post- phases of their pregnancies.
In REckitt Benckiser, we work with a purpose.
"It is not only a commercial entity but we believe that we have to do something for society, for humanity. The purpose we are working toward is healthier lives, happier homes.
"Across the globe, acorss different counteries we are working toward that. We can really bring changes in peoples lives in nigeria by working with different partners and the government and doing some impactful activities.
"We have been working with the governemnt, the people and schools in the last six to seven years. and in this period we have almost covered 5 million school children, 6 million new mums, and we have taken the message of hygiene to them. It is really encouraging. what it means is that it is not just one intervention that is different but also how you can make it sustainable, have more partners joining, how we can take it forward and make it really impactful in lives."
The highlight of the programme was the final phase of quiz completion which included about 9 schools; Kaduna, Bauchi, Rivers and Jigawa.
Others are; Akwa Ibom, Delta, Ekiti and Bayelsa.
At the end of the final round, Rivers came first, while Kaduna and Bauchi came second and third respectively.