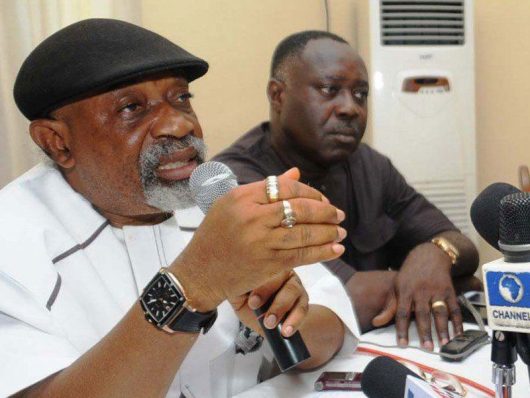 • As NLC meets today
By Lawrence Olaoye
The federal government has approved a White Paper to checkmate the excesses in Labour unionists with a view to addressing certain challenges and conflicts brought about by industrial disputes.
This is as the organised Labour says it will meet today to take a final decision on the new National Minimum Wage for workers, following the delay by the Federal Government to announce its figure.
Briefing newsmen after the weekly Federal Executive Council (FEC) meeting chaired by President Muhammadu Buhari yesterday, Minister of Labour and Employment, Senator Chris Ngige, said the Council had approved recommendations of the Technical Committee on Industrial Relations Matters which was inaugurated in April, 2016.
The minister said, "As you might all been aware, the Federal Public Service in Nigeria has been bedeviled with all sorts of problems and conflict areas. So, over time, government has set up various Committees, brought out establishment circulars, brought out circulars from the various government agencies all in a bid to stem the tide of industrial disputes.
"So this Technical Committee, which was inaugurated on the 21st of April 2016, did its work and submitted report to the Federal Executive Council in October 2017. The Federal Executive Council in turn empanelled a committee of ten, which I chaired, to do a government draft White Paper on those contentious areas that the technical committee had looked at.
"These contentious areas are the enforcement of Section 43 of the Trade Dispute Act Law of the Federation 2004. This is the section that deals with lock out of workers by their employer without declaring redundancy appropriately because the same establishment, especially in the private sector workers are, locked out by their employers. So the law there says that if you lock out your workers without passing through the normal channel, due process for the period of the lock out, the worker is assumed to be at work and will receive all remunerations and allowances and benefits accruing to him for the period and that period will also be counted to him as a pensionable period in computation of his pension.
"But when workers go on strike, the principle of 'No work, no pay' will also be applied because that principle is enshrined in that same section 43 of the labour act. That section says for the period a worker withdraws his services, government or his employers are not entitled to pay and the period for which they were absent will not count as part of his pensionable period in the public service.
"So, Council accepted it as a White Paper recommendation that should be gazetted because even the National Industrial Court has made pronouncement on that law and said that it is clear.
"Another area is the of public servants remaining permanently in the executive bodies of trade unions. Government realises that some persons in the public service go into trade union executive positions, hold offices and they do that for life for as long as they are in the service. And in doing so, they will refuse postings and redeployment under the guise that they are doing trade union activities, government says no.
"You have to be a public servant first before you become a trade unionist. Therefore, if you are there, the public service rules should also be applied to you and in doing so, government says establishments will look at issues and give it a human face in order not to disrupt trade unionism and in furtherance to this, government has also said that there must be tenure stipulations because people stay there
without tenures, many organizations give people union positions without tenure. Government says there is no office that doesn't have a tenure. Trade unions now should give us Constitution that must have tenure at least maximum of two tenure for any elective position.
"Again the third point that government looked at in the technical report for us is the authentication of documents in collective bargaining. Often times in government circle we have gotten circulars that are fake being presented by people who come for collective bargaining agreements. Sometimes, even some parastatals can present something that is not really authenticated. Government therefore says all collective agreements must be authenticated by the rightful authorities and domiciled with the Federal Ministry of Labour and Employment.
"Next point is the issue of skipping. You all know about the history of skipping. The doctors want to skip, the doctors want to skip, the laboratory technologist wants to skip always especially in the medical sector. It has now spilled over into the general public service. Therefore, government says Head of Service of the Federation must bring out a circular immediately to stop skipping arrangements.
"The next point is the issue of resident training for medical doctors. The medical training for resident doctors has been contentious. Some medical doctors come into the training and become professional unionists and stay there as permanent job. The residency training is actually not a permanent job as such, it is a conveyor built arrangements by which you stay and drop off, another people come in so government has fixed a tenure for resident training, seven years within which you can pass all your exams. If you don't pass all your exams after seven years, you are off.
"Again, there is the issue of report on inter professional rivalry in the health sector. Government noted that this report has been there and has directed the Secretary to the Government of the Federation (SGF) to process the report and its white paper that was done by the former committee in 2015 and then present to government for deliberation and reprocessing. This is in a bit to stem the industrial crisis we have in the health sector.
"There is the issue of non-government employees representing government and non public officers leading negotiating team with unions on behalf of government.
"There is a particular incongruous situation that has existed and has caused government a lot of problems. You sometimes see Chairman of a University Governing Council of Polytechnic going to lead government delegation and enter into agreement that cannot be implemented. So government realises the problem it causes and now says in the white paper that will come out that non-government employees will not lead government delegation. There are enough memory to be recovered in bureaucracy in any given MDA. Therefore, outsiders coming to lead government delegations will not happen.
"In the same vein outsiders also come in to lead trade union delegation conciliations and collective bargaining agreement is also to be stopped because often times, those people employed who are not elected officers of unions will come to negotiations and will never never look at things dispassionately. They want to impress their employers or they want to prolong whatever discussion is going on. So government want to put a stop to it.
"Again is the issue of abuse of private practice by health professionals in full employment in public health institutions. There have been a lot of hue and cries about doctors establishing private clinics, visiting maybe the health institution they are serving under once a week then spend all their times in the private clinics. There is also the case of laboratory technologists doing so, there is also the case of even teachers who own private schools. So, government has said that a circular has to come out after a special committee of government has looked at this and given government full recommendations on how to curb that particular practice which had been causing a lot of harm especially in the public health institutions.
"There is also the issue of classification of research centres in the federal public service and the issue of Directors-Generals and Chief Executive Officers of Research Institutes remaining within research institutes after serving out their tenure."
Meanwhile, the Labour Union says it will meet today to take a final decision on the new National Minimum Wage for workers, following the delay by the Federal Government to announce its figure.
Mr. Ayuba Wabba, President, Nigeria Labour Congress, NLC, made this known in an interview with the News Agency of Nigeria on Wednesday in Abuja.
Wabba said that the struggle for a new National Minimum Wage for workers was on course, saying that labour was proposing N30, 000 as requested by organised private sector.
"So, we, as organised labour, will be meeting tomorrow (Thursday) in Lagos after which we will brief newsmen on the outcome of our decision.