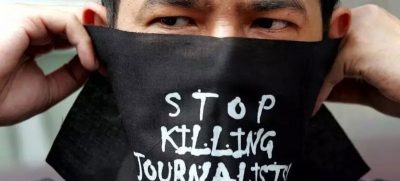 In Mexico, the journalist is always the endangered specie. There, more journalists have been killed by the state and crime gangs than in any other countries. El Salmantino online daily newspaper on Tuesday confirmed the death of its journalist who was gunned down while covering a news story in the city of Salamanca.
The journalist, Israel Vazquez, was killed on Monday and died in hospital several hours later. The 31-year-old was the third reporter to be killed in Mexico in less than a month. He was attacked as he arrived to collect information about the discovery of a dismembered corpse, the newspaper El Sol de Mexico quoted police as saying.
Apparently those responsible for the crime were still on the scene when Vazquez arrived. When he approached the site in a car clearly marked with the newspaper's logo, two armed persons forced him to get out and shot him. Vazquez suffered a perforated lung and underwent surgery at a local hospital, but did not survive. The state prosecutor's office has appointed a special team to investigate the journalist's murder.
Mexico, a country plagued by organised crime and violence has a record of over 36,000 murders in 2019. It is also one of the most dangerous countries in the world for the press. More than 160 journalists have been murdered since 2000, according to figures from the National Human Rights Commission. Salamanca, the city where Vazquez was murdered, is the scene of clashes between various groups involved in crimes such as drug trafficking, fuel theft and extortion.
We at Peoples Daily join millions of journalists worldwide in mourning this young, enterprising Mexican journalist. His 'crime' was that he answered the call of duty to investigate a suspected murder and became another victim.
We welcome the assurances offered by the office of Mexico's State Prosecutor that a "special team" would inquire into Vazquez's murder. Not that we expect anything to come out of the investigation. The journalist, unfortunately, would be just another statistic to be quickly forgotten.
This is a case that should interest journalists' professional unions globally. We have in mind the International Federation of Journalists (IFJ), International Press Institute (IPI) and Reporters Without Borders (RSF). Together they can mount pressure on the Mexican authorities to find Vazquez killers and bring them to book. They should be made to give protection to journalists. This is because a world without journalists will be barbaric and dangerous.