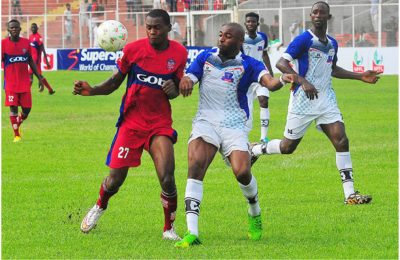 By Albert Akota
Wikki Tourists chief coach, Mbwas Mangut has said his side's apparent slow start approach to matches will soon be a thing of the past in the ongoing Nigerian top-flight.
This summed up the gaffer's reaction to his side's 2-1 loss to Mountain of Fire Miracles Ministries (MFM) FC in Wednesday's NPFL matchday 6 clash at the Agege Township Stadium in Lagos.
Mangut said the side are, however, showing steady improvement in each match aimed at taking their rightful place in the ongoing domestic elite league.
"Slow start to our matches has been a worrisome issue for us in the on-going top-flight. It has been a huge burden on us.
"We are worried about it though concerted efforts are been put in place to correct it to make us competitive and formidable.
"Steadily, we are improving with each match and I strongly believe that in a matter of days the ache will be a thing of the past.
"You could observe that we started slowly in today's (Wednesday) 1-2 loss to MFM FC conceding an early goal in the process.
"However, we picked up in the middle of the game to get a well-deserved equaliser from the spot.
"Second half the players came strongly to the party and were almost going in front before MFM FC scored their second goal.
"MFM FC are good team very mobile and organised as they were able to take their chances quite early, not a bad side at all," said the former Heartland coach to supersport.com.
Mangut enthused that his side will soon break the jinx that has seen them winless on the road so far in the league.
"Well, just six matches gone down in the new season it's still morning as far as we are concerned.
"We are improving with each match and I'm positive that in about two weeks or there about we will pick away win where nobody expects us to get it.
"We are heading to Uyo to confront Akwa United with positive mind, and like I said we will get away win where nobody expects it.
"We have players who can do it for us so you should expect positive result at Uyo," said Mangut.
The Bauchi Elephants are eighth on the 20-team top-flight on nine points, four behind league leaders Akwa United..