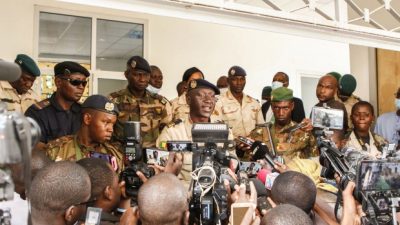 Wednesday Column By Ussiju Medaner
info@medaner.com | justme4justice@yahoo.com
Between 2010 and now, there have been exactly 34 attempts at coup d'etat in Africa. Notably, the February 8, 2010 Nigerien coup led by Chef d'escadron Salou Djibo which overthrown President Mamadou Tandja; and now the Malian coup that has almost successfully overthrown the government of President Ibrahim Boubacar Keïta and Prime Minister Boubou Cissé.
There was a time in the past when forceful takeover of government was a norm in Africa and to that, we have had most of our underdevelopment blamed on the forceful interference. I had thought those days are fast gone but the statistics above indicates such forceful takeover is not yet over. If the continent and its leadership allow the Mali coup to stand for whatever reason, then it will become that we have returned to the dreaded old days of military and draconian rule. Coup begets coup; that is the reality of the continent of Africa and we should begin to see the reenactment of the unacceptable process in nations across the continent.
The Malian case and events in the last few years is but just a mirror of what a number of nations in the continent are becoming. Gross abuse of the tenet of democracy; gross abuse of power by those with privileges to be in the corridor of power; high handedness and unprecedented level of corruption; gross unemployment and poverty of both mind and resources on the part of the populace amidst open affluent of the few in the corridor of power; gross and blatant abuse of power and position of authority; insecurity and mass slaughtering of the people while the government do virtually nothing, and a whole lot of anomalies that have fast become norms in the continent. We have made a mess of democracy in the continent but that has not opened the airway for usurping democratic power. Power belongs to the people and it remains their eternal right to decide who holds it on their behalf. What happened in Mali remains an aberration and must be expressed and responded to accordingly in the interest of the entire continent.
Though, democracy is becoming disappointing, yet, it is not an option that we return to the era that is basically responsible in a lot of ways for the very failure of the governance we are experiencing in Africa. Regardless of the maladministration by the Malian democratically elected leadership, it remains and will stand an aberration for anyone or group, military or civilian to usurp the right of the people to elect for themselves who will be their leader. The concept of periodic election is to prevent excessive and overbearing attitudes of democratically elected leaders. What the continent has repeatedly failed to effectively avail itself is the opportunity to rid itself of non-performing individuals from the corridor of power.
Still, it would be an error for the continent to at this material period in time accept the conjecture that the military in whatsoever way possesses the capacity to right the wrongs in the body polity of nations within the continent. We have had ample experiences of military rule and their branded totalitarian, disregard for rule of law and sanctity of fundamental human rights, amplification of corruption, insecurity and broad collapse of economies of nations. Nigeria current issues with democracy cannot be separated from the past contaminations of military incursions. While the military would claim they are taking over to revamp and correct noticeable problems, they have overtime proved to end up worsening the country than they met it. We are nations guided and governed by rules; rules we made by ourselves for ourselves; our constitutions, an agreement among ourselves for the way our nations should run, inclusive of who and how our leaders should emerge. We all owe it to these collective agreements to stand tall across the continent of Africa and say no to the aberration taking place in Mali. An injury to one is an injury to all.
It is not the responsibility of an illegal leadership as constituted by the coup leaders to decide and plan an election for a nation. The leadership of African Union must realise that the onus is on them to leave no stone unturned to return Mali to status quo. If by any means, it fails in this responsibility, then, nation after nation, in the continent should be awaiting their turn of the dangerous precedent.
Returning to issues in Nigeria, as we continue to get battered on all front by unpatriotic acts from our own citizens across the nation and security of live and properties become more of an impossibility for the country to attain, with citizens falling every hour to the cold arm of unnecessary gruesome death in the hands of the Boko Haram insurgent and armed militants across northern Nigeria and all forms of armed uprising and vices in other regions, I will continue from my last week dissection of the nation's security issue to x ray issues that remain our albatross as we wish for an end to insecurity and related catastrophe in Nigeria.
The Mailaifa case cannot be allowed to go down forgotten so soon, at least not until he has finally declared the identities of persons behind the terroristic sect that he is privy to or he is charged accordingly for wilfully heating up the nation, instilling fears in the citizens and catalysing the existing division along ethnic and religion divides in the country. So many things about the revitalisation of the nation's security and safety are hinged on unravelling the embedded, unsolicited outburst.
The Mama Boko Haram exposition is another serious concern for the nation. It actually does not make sense that all these years while Boko Haram was terrorising the nation, there was a woman who walked regularly into the den of the sect and dine with them only to return to us to boast of her uncommon privileges. And we could do exactly nothing about it. Again and again, we keep having citizens coming out with critical information that is soon carpeted as baseless without necessary investigation. These are more of an orchestrated series of unveiling events that may spell doom for Nigeria if not properly handled right now.
Section 24 of the Cybercrime Act of Nigeria must be activated to reflect in the nation's handling of these issues. Individuals cannot be allowed to wake up and develop the wish to address press conferences or grant interviews to revitalise their popularity and relevance in the order of national events or just disseminate damaging information without considerations for the effect of their pop up messages on the sanctity and security of the nation and its citizens. The spirit of the law and its intentions are clear enough. Section 24 of the Cyber Crime Act 2015 states that "Any person who knowingly or intentionally sends a message or other matter by means of computer systems or network that
(a) is grossly offensive, pornographic or of an indecent, obscene or menacing character or causes any such message or matter to be so sent; or
(b) he knows to be false, for the purpose of causing annoyance, inconvenience danger, obstruction, insult, injury, criminal intimidation, enmity, hatred, ill will or needless anxiety to another or causes such a message to be sent: commits an offence under this Act and shall be liable on conviction to a fine of not more than N7,000,000.00 or imprisonment for a term of not more than 3 years or to both such fine and imprisonment.
(2) Any person who knowingly or intentionally transmits or causes the transmission of any communication through a computer system or network
(a) to bully, threaten or harass another person, where such communication places another person in fear of death, violence or bodily harm or to commits an offence under this Act and shall be liable on conviction
(i) in the case of paragraphs (a) and (b) of this subsection to imprisonment for a term of 10 years and/or a minimum fine of N25,000,000.00;"
But it seems Nigeria laws are not meant for selected individuals and groups to obey. In Nigeria it has become more of a norm that belonging to a political party or some pressure groups has inferred upon individuals the freedom to say anything and get away with it. It is at that point that implementing the law becomes equated to witch hunting.
The willingness of Nigerians to ride on the back of sensitive issues to prominence is acutely worrisome. Individuals and groups now see it as allowable, a norm as well as pathway to grace; to fabricate in a devious manner, disseminate nonfactual, unproven critical reports along matters of insecurity, corruption, and unity of the country. The desired goals of these elements have always been to amass sympathy, acceptance and popularity from sections of the country for political reasons.
In the last one year, the person and office of the vice president has been the subject of so many tactless and false accusations and yet not a single individual or institution responsible has paid any price for the false and fake information they willfully share to gain a certain momentum. For a price, whatever it is, it is unfortunate that our people have condescended so low to the point of purposefully ignoring the need to adhere to constructive criticism and not mere vituperation and the likes. The need for objectivity and balancing while we write or make statements is totally lost on us; and rather than writing and offering speeches from an informed point of views, we have become a population of people who enjoy using baseless statistics and fabricated stories to tickle the fancy of citizens, overheat the polity, amass some inglorious support and pollute our democracy.
We failed to maintain our many victories against the Boko Haram insurgency because, winning the war against insecurity and several other currently ongoing vices in the country will not please a number of highly placed citizens who breed and survive on the continual existence and perpetration of these vices. That is the very reason why as a nation we have failed woefully in fighting against the sect on a common front. We have heard how the Taraba state illegal mining and associated killings were spearheaded by senior citizens of the state from various walks of endeavours. We are hearing rumours of alleged controllers of the insurgency as well as their financiers being powerful politicians and possible respected statesmen. It is not hidden that on a regular basis, names of individuals suspected to be profiting from insecurities in the country keep surfacing on the media, but each time we do nothing beyond carpeting the news along with all its substances. At this moment, with all our claimed intelligence networks in the country as well as international collaborations, it remains unexplainable why we could not yet pinpoint the individuals behind the sponsorship of insurgents in Nigeria. The acclaimed killer herders and the militants in several states of the federation are waving sophisticated weapons that without doubt are being imported into the nation regularly, yet without interception by any of the layers of our security platforms.
It becomes certain that all these recurrent anomalies in our handling of insecurity and other serious vices plunging the nation into chaos and preventing real development as well as our chances to become really and truly united, are because of the politicians and supposed leaders of the country desire to both remain powerful and stupendously rich and richer than the country if possible. These explain why we have local government, state authorities and federal government, inclusive of the various legislative bodies in the country expending more money than they probably should have access to and still on irrelevances, much on themselves and into their private purses. When they all ridiculously and ineffectively allow the country to look good on book but swollen and rotten in reality because the wealth of the nation is what they are all scavenging for by their actions, utterances and dispositions. The set of immoral politicians and leadership this nation has been unfortunate to have over the last few decades have only been interested in dissecting the body and soul of the nation like it was done to Africa by the preceding Berlin accord that led to the sharing of the continent by various colonialists; only that these time around, it is Nigerians balkanising the nation to reap its resources. This explains the unexplainable riches of the few among us. They are getting richer by the day because they have apportioned the riches of the nation to themselves. Glaringly, we have billionaires and trillionaires in Nigeria without commensurate sources of income beyond their closeness to power and Nigeria's resources.
These suspected wealthy individuals are the owners of the oil wells, a national resource. They control the military, NNPC and the entire Nigeria oil industry; they control the nation's Central Bank; they own the nation and invariably hope to own us all. These people will repel and oppose changes that are capable of reordering the status quo; they will not allow the Petroleum Industry Bill to see the light of the day; they will give all it takes to fight the fight against corruption; they will pay the price to stall the war against insecurity and presumably fuel more insecurity across states to facilitate easy ground for their personal survival. They would be at the forefront of sponsoring such unsolicited speech as the one we heard from Dr. Malafia and others like him. They will pay to discredit upright men like they are doing repeatedly to the president and the vice president and also pay to keep the nation divided on all possible fronts for as long as it is feasible. They are the reason for the existence of Nnamdi Kanu; they are the voice behind Omoyele Sowore Revolutionnow movement; name the divisive movement and their fingerprint will be obvious.
I have been studying, investigating and writing about these many vices in Nigeria for a while. At a time, I felt some respite thinking we are at the forefront of being freed from these harmful vices only for the country to relapse headlong and voraciously into the abyss of more nefariousness. It then occurs to me that not now or in the nearest seeable future will Nigeria be free because the forces we are up against are mightier than we are. Borrowing a line from the Bible, Jesus Christ said "And if a house be divided against itself, that house cannot stand."
Nigeria is divided against itself and the forces against the progress and development of the nation are more powerful than those that want its welfare. In the law of winning, the side with better resources such as weapons, strategies and funds wins the battle and the war; and the few Nigerians who are only interested in their selfish aggrandizements have these resources – largely cornered from the Nigerian state; they even directly and indirectly control the citizens. That is why, with the current Buhari Administration's giant and unprecedented drives and achievements in rail development, road and bridges infrastructure, rice revolution and many others, these few powerful individuals decide how to judge the achievements of the government and would easily see to it that Nigerians are not bothered by those achievements but what they projected through their sources on all media across the nation.
The way forward for Nigeria would be to allow for constructive public dialogue in our political space; but unfortunately as presently composed, religion and ethnic biases have rendered that space mundane and pedestrian. We have lost the capacity to engage ourselves constructively with sound reasoning, intelligent insights, as well as nationalistic, patriotic and altruistic viewpoints on issues. To move away from where we are currently, we must be ready to rediscover ourselves and reenact a religious and ethnic understanding that speaks to our readiness to communicate with readiness for compromises and understanding. But this will not happen with self-centered and egocentric, mammon worshiping crops of religious leaders we are brandishing right now and the self-acclaimed tribal lords who are predominantly out to seek nothing but their own welfare out of the ruins of the nation.
Our readiness to engage in a national public discourse on insecurity will then lead us to ask the ultimate question. There would not be this level of insecurity in the country without strong enablers of insecurity in the country; who are these enablers? The very way there would not be corruption on a massive scale without professionals such as lawyers, accountants, bankers, security officers, who provide the professional services and supports that enable looters of our commonwealth to loot successfully. Until we fish out the elements within the country who have been sabotaging the security of the nation, those sponsoring the gruesome attacks against the structure and people of Nigeria and make them to face the law albeit swiftly, our efforts against insecurity will only be synonymous to the barking of a toothless dog.
While taking these steps, there would be a need to completely change our mentality and form of response to the issue of insecurity in the country. Stigmatising and attempting to blame a particular president or people for vices we know to have a long history will not in any way help our cause. If all successive Nigeria government since the late 1960s had had to deal with the recurrent issue of killings in the southern Kaduna axis of the country, and each and almost all of these administration has set up at different times committees to decide a way forward for security in the region, how will a sudden nickname of the southern Kaduna killings after a particular president and his people solve our problem. I recollect an incident in 2011 when the late governor Yakowa of Kaduna state was pleading with angry protesters from southern Kaduna who believed the governor, being from the region himself, should be able to use the office of the governor to bring an end to the killings. In reality, southern Kaduna has a long history of outbreaks of violence resulting in unnecessary killings. An estimated 15,000 to 20,000 indigenes of the region have been killed across the region since 1980, in a pattern that peaked around 1992 and again in 2002; in 2011 alone. During the administration of governor Yakowa who incidentally was from the region himself, more than 500 people were killed. So when we choose to associate killing with any current leader or individual, rather than providing a solution, we are deepening the enmity and lack of trust among religion and ethnic affiliations in the country. We must all agree to see our problems for what they are and together, agreed to proffer working solutions to them.
Taking Nigeria out of the mud of insecurity is never an impossible task only if Nigerians would be willing to do what it takes. We cannot continue to value our various religious affiliations and ethnic bias above the unity and safety of the nation and simultaneously desire the safety of the nation. A nation divided along religious and ethnic lines is already a recipe for insecurity and chaos.
GOD BLESS THE FEDERAL REPUBLIC OF NIGERIA!