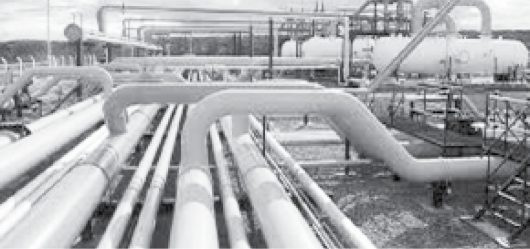 By Lynda Richard Udoh & Jonah Jennifer Shekwoyemi
Liquefied petroleum gas or liquid petroleum gas (LPG or LP gas), also referred to as simply propane or butane, are odorless, colorless, flammable mixtures of hydrocarbon gases used as fuel in heating appliances, cooking equipment, and vehicles.
It is non toxic and lighter than air increasingly used as an aerosol propellant and a refrigerant, replacing chlorofluorocarbons in an effort to reduce damage to the ozone layer.
When specifically used as a vehicle fuel it is often referred to as auto gas. LPG is used for cooking in many countries for economic reasons, for convenience or because it is the preferred fuel source.
In India, nearly 8.9 million tons of LPG is consumed in domestic sector mainly for cooking. The number of domestic connections are 215 million (i.e. one connection for every six people) with a circulation of more than 350 million LPG cylinders.
LPG is commonly used in North America for domestic cooking and outdoor grilling and the most common cooking fuel in Brazilian urban areas, being used in virtually all households, with the exception of the cities of Rio de Janeiro and São Paulo, which have a natural gas infrastructure Poor families even receive a government grant ("Vale Gás") used exclusively for the acquisition of LPG.
Nigeria has join the trend as the 42nd highest natural gas consuming country (12,900 m³/year) in the world. The top 10 countries by natural gas consumption are: United States, European Union, Russia, Iran, China, Japan, Saudi Arabia, Canada, Mexico, Brazil, and Germany.
The Programme Manager, National Liquefied Petroleum Gas Expansion Implementation Plan, Office of the Vice President, Mr. Dayo Adeshina, has said that out of about 180 million Nigerians, 1.8 million had adopted the use of LPG (cooking gas) in their homes.
Most Nigerians are begining to switch to cooking gas and there's been a dip in the use of Dual Purpose Kerosene, DPK, (also known as kerosene) for cooking in most households in the country. The cause of this change as explained by some Abuja residents is due to the fact that Gas is more affordable than kerosene cheaper and better.
Favour Moses a resident of Bwari prefers using gas because it last longer unlike kerosene which burns faster and makes the kitchen smell awful, with black smoke everywhere." Gas refill, as discovered by Zobates a chef is cheaper than kerosene in terms of energy output per naira; he further explained that cooking with gas is much faster and decent as it doesn't "black" your utensils. And no need for struggling to get "that blue flame" and turning the hot kerosene burner endlessly. Mikeal who recently started using gas explained that he enjoys cooking with gas because it's most faster than kerosene and as a bachelor he does not have to waste time washing the back of he's cooking utensils.
Mrs. Etim a restaurant owner unlike others prefers cooking with fire wood because it is more convenient for her business and it accommodates her large cooking utensils better than gas. According to her, she grew up using firewood which is part of the African culture and further explained that cooking on gas is the practice of the white men and most Nigerians are emulating them, but she would rather keep the culture alive. When asked how she manages her utensils from getting black, she described simple method like rubbing ashes, palm oil and detergent at the exterior of the pot before placing on fire.
Mr. Moses and Mr. mike who are bike riders and still kerosene users looks forward to using gas as they discovered that it is more cheaper but acquiring the cylinder is bone of contention.
Research show that a larger percentage of Nigerians are willing to own a gas cylinder if the opportunity is there. This is an indication of willingness among most Nigerians. And it indicates the huge benefits for players in the gas sector as an average family in Nigeria would use at least 12.5kg of LPG a month. However, lack of basic starter kits and low awareness and education remain major stumbling blocks in converting Nigerians to LPG users.
The price of gas has fluctuated over the years, the Average price for the refilling of a 5kg cylinder for Liquefied Petroleum Gas (Cooking Gas) decreased by -1.20% month-on-month and -9.69% year-on-year to N2, 010.45 in July 2018 from N2, 034.93 in June 2018.
However, some Nigerians have sworn never to make use of cooking gas in their homes because they find it inflammable and believe its usage could be dangerous to little children in the house while some others see it to be something designed for the rich alone.
Mr. Sunday Yakubu the supervising manager of SIMEC gas Bwari Abuja described business as ok because cooking with gas is most preferred by Nigerians, faster and very economical i.e. it is cheaper compare to others. Even though some Nigerians still have the mentality that food cooked on gas doesn't taste nice, he is of the notion that there is no difference in the taste.
In regards to various gas accidents that have been happening around the country, Mr. Yakubu explained that there are certain electronical appliances that shouldn't be used along side gas because it could cause a spark and electric burners should not be used with gas stove at the same time.
He advised that even though it is in the nature of Nigerians to manage, gas cylinders should not be managed because people use gas cylinders for as long as they can without taking precaution and in their on way they try not to refill rusted and leaking gas cylinders.
There have been series of gas incident in the country and we cannot shy away from it, like the recent incident in Lafia Nasarawa State which happened due to gas leakage. Most of these incidents occurs due to carelessness and poor maintenance of gas accessories by its users and when this happens, lives are lost and properties worth millions are also lost in the fire inferno that follows. Many people have cylinders as old as 20 years in their homes. It never occurs to people that gas cylinders expire and when it does, it results in leakage that can lead to explosion.
In his statement there have been many cases of gas cylinder explosions and if a cylinder of 12kg explodes, it is capable of bringing down a two story building, cooking gas cylinders must not exceed five years. Most people using cooking gas hardly remember when their cylinders were bought. The LPG being used at homes comes with an expiry date which many are certainly unaware of it, once the cylinder is past the expiry date, one must stop using it. But most people have no idea how to check the expiry date of the cylinder and explain that the steps to check the expiry date are very simple and basic.
The expiry of LPG Cylinder can be found on one of the metal strips that connect the body of the cylinder to top ring (handle). It is mentioned on the inner side of the strip. The strip has any of the alphabets from A to D painted on it along with a number.
Decoding the expiry date is simple. The alphabet represents the month it expires while the number indicates the year.
A year is divided into four quarters –
A – January to March
B – April to June
C – July to September
D – October to December
For example, your cylinder has 'B 202 painted on the metal strip.
The alphabet B represents month April, and 20 indicates the year 2020. So a cylinder having B 20 mentioned on it means it will expire on April 2020. However, there is a limited grace period of three to four months after the expiry as the cylinder cannot be pulled out immediately out of the circulation. There have been reports that distributors tamper with the expiry date as it is written with paint. So next time you receive a cylinder, as advised by him do check the expiry date. For those who keep their gas cylinders outside their house, make sure it is well covered and protected from sun, rainfall and the reach of children.
Despite the fact that, various negative perceptions is deeply rooted in the minds of some Nigerians, cooking gas is still more economical for Nigeria and is of benefit to the nation's environment. Therefore rusted gas cylinder should be kept away and turned off immediately after cooking to stay safe.