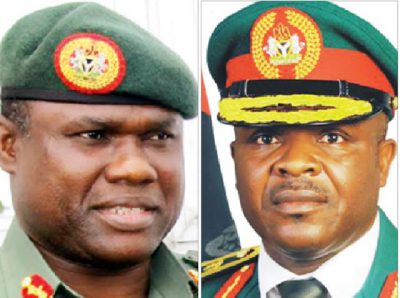 By Ese Awhotu Abuja
The federal government has released a new list of looters of the country's treasury, saying that the list of alleged looters which it released earlier was based on verifiable facts, including the amount involved, the date the amount in question was collected and from where it was taken.
Those listed in the second batch of alleged looters by the federal government and the amount embezzled are:
Former NSA Sambo Dasuki: Based on EFCC investigations and findings alone (this is beside the ongoing $2.1 billion military equipment scandal), a total of N126 billion, over $1.5 billion and 5.5 million British Pounds was embezzled through his office. A good number of these monies were simply shared to persons and companies without any formal contract awards.
Former Petroleum Resources Minister Diezani Alison-Madueke: In just one of the cases the EFCC is investigating involving her, about N23 billion is alleged to have been embezzled. She is also involved in the Strategic Alliance Contracts of the NNPC, where the firms of Jide Omokore and Kola Aluko got oil blocks but never paid government taxes and royalty. About $3 billion was involved. The Federal Government is charging Omokore and Aluko and will use all legal instruments local and international to ensure justice.
Also listed is Rtd. Lt.-Gen. Kenneth Minimah: N13.9 billion. N4.8 billion recovered by EFCC in cash and property.
Lt.-Gen. Azubuike Ihejirika: N4.5 billion. N29m recovered by the EFCC so far.
Alex Barde, former Chief of Defence Staff: N8 billion, and EFCC recovered almost N4 billion in cash and property already.
Inde Dikko, former CG Customs: N40 billion, and N1.1 billion recovered in cash and choice properties.
Others are Air Marshal Adesola Amosun: N21.4 billion. N2.8 billion recovered in cash. 28 properties and 3 vehicles also recovered,
Senator Bala Mohammed, former FCT Minister: N5 billion. Interim forfeiture order on some property secured.
Senator Stella Oduah: N9.8 billion. Interim forfeiture order on some property secured.
Former Niger State Governor Babangida Aliyu: N1.6 billion, from NSA.
Senator Jonah Jang, former Plateau State Governor: N12.5 billion.
Bashir Yuguda, former Minister of State for Finance: N1.5 billion.
$829,800 recovered.
Senator Peter Nwaboshi: N1.5 billion.
Aliyu Usman, former NSA Dasuki's aide: N512 million.
Ahmad Idris, former NSA Dasuki's PA: N1.5 billion.
Rasheed Ladoja, former Oyo Governor: N500 million.
Tom Ikimi: N300 million.
Femi Fani-Kayode: N866 million. Hassan Tukur, former PPS to President Goodluck: $1.7 million. Nenadi Usman: N1.5 billion. Benedicta Iroha: N1.7 billion. Aliyu Usman Jawaz, close ally of former NSA Dasuki: N882 million. Jonah Jang, former Plateau State Governor: N12.5 billion and Godknows Igali: Over N7 billion.
Releasing a fresh list of alleged looters, in a statement issued in Lagos on Sunday, the Minister of Information and Culture, Lai Mohammed, also said those complaining that the list was too short apparently did not understand that it was strategically released as a teaser.
"At the press conference where the list was released, I did say it was a tip of the iceberg. Apparently, this does not mean anything to people whose style is to comment on issues they barely understand, or just to shoot down anything coming from the government," he said.
The minister added that the Federal Government has a large number of looters on its list.
Mohammed slammed the PDP for daring to challenge the Federal Government over an issue that the party knows is its weakness – looting of public treasury.
"What was the PDP expecting when it challenged the FG to name the looters of the public treasury under the party's watch? Did the PDP actually believe that the massive looting under its watch was a joke? Did they think it is April Fool?" he queried.
The minister said the PDP's reaction to the looters' list has shown that its recent apology is an election-induced act, contrived to deceive unsuspecting Nigerians to vote for the party in the 2019 general election, even when it has not come clean on its looting spree during its time in office.
"The hysterical and panicky reaction from the PDP has shown that the party is not at all sincere about its choreographed apology. Were it not the case, the party would have followed in the footsteps of one of its leaders, Senator Ibrahim Mantu, who simply owned up to his role in the party's rigging in the past elections and said he had turned a new leaf.
"It is said that a true confession is done in humility with an attitude of repentance. It is clear that the PDP does not know this, hence its resort to hubris instead of humility and genuine penitence," he said.
Mr. Mohammed said the federal government will neither be intimidated nor blackmailed into silence, adding that it will also not rest until all those who looted the public treasury have been brought to justice.