Looking at COREN'S assessment of Rigid Pavement (concrete road)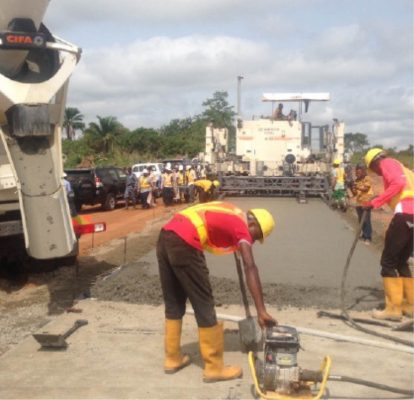 Travelling on Nigeria routes you will discover that all the roads are asphalt roads but approaching Lokoja-Obajana- Kabba road , you will noticed that everything about road was different, your car movement begins to changed ,no more bumps like that of asphalt roads but one drives in a bounding manner.
The roads is not as smooth as the asphalt road but the thickness of cement use in constructing the road makes your driving enjoyable.
Federal government decided to see through an eye of a needle, keyed to give its citizens a long time suitable road than asphalt road which needs more maintenance and patches, when further to adapted the rigid pavement (concrete) roads Experts are of the opinion that federal government should adapted the use of rigid concrete in all roads in Nigeria . It durable and sustainable and it's also a good way of having sustainable roads in the country.
Rigid pavement (concrete) road is a new a modern technology in Nigeria but countries like United State of American (USA) and Indian had this technology used for several years now.
Rigid pavement (concrete) road can support heavy loads, such as truck traffic, with less deformation than asphalt.
Research shows that Rigid pavement (concrete) road can been sustained for 40years, if well managed some experts are of the school of thoughts that in as much as the road is good ,it has its own disadvantage during heavy water downpour , the roads may fail or cut .
With all this advantages, Engineering Regulating Monitoring Team (ERM) took a drive to Obajana to inspect the quality of the rigid pavement road construction by AG Dangote Construction Nigeria Limited.
During the assessment, the Engr. Cyril Nwafor who was the team leader of ERM said that the essence of the tour was to ensure that projects are been monitored.''
We always talked about technology transfer, ERM want to know exactly how many engineers, consultants, contractors, supervisors and professionals who are involved in the project.
While emphasized that for those engineers involved in project and have not registered or not certify by the council, COREN will seriously take actions.
Dr. Nwafor stated that "we have seen the road visible and we have to make our own investigation and if we can get copy of their work then we will carry our own design ensuring that what the AG Dangote is working own was accurate and so far this is the first we are having such new technology in our country, in as much as the country has been concrete pavement but is on a smaller scale, this how we have reached and applying it on a larger scale covering about 40km, so this time ,we had to ensured that they employed best international practices , in order for COREN to recommend such projects to other contractors, clients for their use.
The (ERM) has lauded federal government for involving engineers, technologists, technicians, craftsmen in infrastructural projects Consequently, Head of Engineering regulation COREN Engr. Aku Agabi, stated that as part of our mandate regulate and control the practice of engineering in Nigeria in all it aspects and ramifications and ERM was directed by the president of council to inspect this project and see how far AG Dangote has gone and they are working according to our rules and regulations.
''You can see that their consultants, contractors, clients themselves their personnel are registered and licenses to practices engineering in Nigeria.
'' the technical team has looked at the project and have taken note of everything and when we go back we will bring back our final results.
He added that from my assessment "I heard that all the materials used for the project are local content that is what we want for all our indigenous engineers. Moreso, all engineering cedars are involving, the more they are involved the more job opportunities are for our members.
The Project Director AG Dangote Construction Engr. Olatunbo Kalajaiye told the ERM Dangote that We had an episode that made us to stop the work late last two to three months to be prescribed and substantial during the of the dry season we cannot really can push the work then we stopped .
"Realizing that we have lost three month the management took it upon itself to still look at other ways to recouping and to procure a second concrete batching plant that will be able to produce 135 curbing meters an hour that's translated to about 1000curbing meters per day. So we have two of such that we recurbe that time and we also procure slick form machine in addition to that concurrently'.
Kalajaiye said "we can lay concrete pavement at two locations, as it is now, we have the two working concurrently at different location.
the rigid pavement(concrete) has much advantage like , longer life span of two generations (40years)without any anticipation of failures or anything, we have done relatively comparative analysis in time of cost is almost thing with asphalt ,if not slightly cheaper than asphalt roads'', he said .
He also stated '' the cost of award of this project is 11billion naira, is a 43 kilometer road full the construction of 2years will be completed NOV 2018.
The major challenging we are facing on the construction site is security, sincerely; we have the support of all security forces including the vigilant s at all major work points to ensure security. According to Kalajaiye about 260 Nigerian engineers and other cedars are involved in the project.
Earlier,Acting Federal Controller of Works and Head of Supervision Team Federal Ministry Works in Kogi State Engr. Abdulfatal Lawal told journalist that they have seen what AG Dangote was doing was in Concordance with the ministry's specifications, whatever AG Dangote is doing is in conformity to the standard of ensuring quality roads was provided for Nigerians.
Lawal also maintained that the work depends on the contractors any time they are ready to work "we are ready to be on the site, if they have programmed their schedule to complete the road by December we will try to support them t o ensure is completed at that time.
"They are the ones to bring the work to order we will not drive from that.
The COREN ERM team that came was to be able to evaluate the quality of the roads what so ever finding COREN has made the will communicate it to with federal ministry's we and we will make our stand,'' he said.