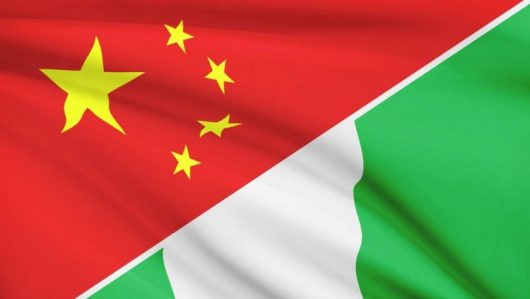 On February 10, 2021, Nigeria and China would have sustained 50 years of smooth, unimpeded bilateral relations, both countries having established formal diplomatic ties on February 10, 1971. The diplomatic ties was sealed a decade after Nigeria gained her independence from the British colonial rule on October 1 1960, with indegenous political leadership taking charge of the affairs of the country from the British colonial masters. The People's Republic of China, a much older Sovereign nation, had got her independence earlier in 1949, 11 years before Nigeria got her's.
Since 1971, as it were, both countries have been able to deepen the bond of friendship and cooperation, and have become more active players in the global community on the basis of free trade, constructive economic, political and regional engagement drives. And to be fair to each other, both parties have constructed their joint cooperation to rest on the principles of equality, respect and mutual benefit, with the friendship and exchanges of visits between the two countries taking place from time to time. One of such visits is to be undertaken by the Chinese State Councilor and Foreign Minister Wang Yi who is visiting Nigeria, the Democratic Republic of the Congo, Tanzania, Botswana and Seychelles from January 4 to 9, as announced Wednesday by the Chinese Foreign Ministry spokesperson Wang Wenbin. According to Wenbin, Wang's planned visits, in line with China's 30-year tradition of choosing Africa as the destination of all Chinese foreign ministers' first overseas visit each year, showed China's close attention to its ties with African countries and friendship with African people. Spokesperson Wang noted that the year 2021 marks the last year for the implementation of the Forum on China-Africa Cooperation (FOCAC) Beijing Action Plan (2019-2021), adding that the foreign minister would deepen coordination and communication with the African side to cement the important consensuses and facilitate economic recovery in African countries while fighting the Coronavirus pandemic. Under the framework of FOCAC which started in 2000, and with the follow-up actions of the distinction Beijing summit of the FOCAC in 2018, the bilateral relations between China-Nigeria grew even stronger and more rapidly.
Both China and Nigeria have a natural demographic advantage which distinguishes them in their terriitorial domains. With an estimated population of 1.393 billion in 2018, China stands out as the second largest economy in the world after United States of America, although there are projections that the USA dominance may be affected adversely by the ravaging Covid-19 pandemic. On the other hand, Nigeria is the largest market in Africa and most populous on the continent with a population put at about 206 million, according to a 2020 figure released by the National Population Commission.
Nigeria and China have respected each other's sovereignty, with strategic cooperation cutting across political, economic, cultural and educational needs. For instance, Nigeria recognizes that there is only one China in the world, that the Government of the People's Republic of China is the sole legal government representing the whole of China, and that Taiwan is an inalienable part of China's territory. On the other hand, China has sponsored scholarship projects, and is still doing so, for Nigerian students studying in tertiary institutions across China under a cultural and educational support programme to boost human capital development.
In Africa, Nigeria is considered one of China's key partners in trading and exports and the volume of trade between them grew to $19.27billion in 2019, according to official figure. And according to a 2014 BBC World Service Poll, 80% of Nigerians view China's role positively, with some sceptics put at about 10%. So far, the two-nation pact has given rise to developments in infrastructure financing with the Federal Government of Nigeria and China's Import and Export Bank providing joint funding, and exchange of agricultural products, and public loans financing among others.
The rise in Nigeria-China economic relations can be understood against the background of increased income for both, especially for China, in addition to economic complementarities between the two countries, particularly the market opportunities which drive the relationship. While Nigerian consumers look forward to affordable products from China, Chinese growing manufacturing firms are seeking market opportunities for their intermediate and final manufactured products from Nigeria. Also, the input sourcing and export promotion drive of the two nations is another reason for the economic complementarities. As the growing Chinese firms are seeking raw materials (oil and other minerals, agricultural products, etc for inputs and generation of energy), Nigerian exporters are seeking market opportunities for their primary products. China's ability to provide the financial and technical assistance (at concessionary interest rate or /and with aid) to Nigeria which is in need of such is another critical factor. The recent repeated political visits by Nigerian government and the reciprocal visits by the Chinese Government which led to the signing of bilateral Trade Treaties and Memorandum of Understandings between the two nations have also strengthened the relationship.
Available data from the World Bank (2007) show that in 2000, four broad commodities were exported from Nigeria to China totaling US$307.3 million, with the main export commodity being mineral fuel and lubricants which represented US$273.7 million (90% of total exports) and next important export in 2000 was crude materials excluding food and fuel which totaled US$33.3 million. The remaining two broad commodities exported to China were quite insignificant with values between US$0.1 million and US$0.2 million. Nigeria's exports to China increased to US$526.9 million in 2005; the increase was more than 50%. The China's share of Nigeria's total exports fell from only 1.5% in 2000 to 0.79 in 2007. In terms of imports, Nigeria's total imports increased from US$5.3 billion in 1996 through US$5.8billion in 2000 to US$17.7billion in 2005. The dramatic increase of Nigeria's total imports between 2000 and 2005 was also reflected in the country's imports from China which rose phenomenally from as little as US$252million in 2000 to US$2.3billion in 2005. Nigeria imports almost all of the broad categories of products from China. In 2005, imports of machinery and transport equipment ranked first followed by manufactured goods, miscellaneous manufactures, chemicals and food and live animals. China's share of Nigeria's imports rose from 3.5% in 1996 to 13.44% in 2007. Nigeria's import from China is more diversified than its exports.
Given the trade pattern, China had a trade surplus with Nigeria during the period 2003-07. The trade surplus rose by almost 91% in 2005 and 24% in 2007 for agricultural, while it rose by about 41, 45 and 27% in 2005, 2006 and 2007, respectively for non-agricultural. The total trade surplus of China against Nigeria was about $3.3 billion in 2007. On product basis, China recorded trade deficits in a few products. Among the economic consequences of the growing trade relations between the two countries are the fact that there is a rise in the price or terms of trade (TOT) of primary products of interest to Nigeria and a decline in the price or TOT of manufacturing products produced by China, which resulted into intense competition in the World market.
As the New Year opens in 2021, there are no signs China and Nigeria are prepared to soft pedal on their growing mutual cooperation which has so far yielded palpable outcomes. This is commendable and the momentum should be sustained for a win-win for both.