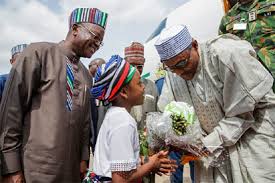 When President Muhammadu Buhari did not visit Benue state soon after the New Year day killings in some communities, reportedly by some armed herdsmen, he was criticised, albeit hastily, for not showing "empathy, sympathy, care" as the "father of the nation". Others openly accused him of endorsing the violence because, as they claimed, it was his kinsmen who carried out the killings.
The spate of criticism increased after former President Olusegun Obasanjo undertook a private condolence trip to Benue. Though he did not say it openly, by that visit that came after Obasanjo, in an open letter, directly accused Buhari's government of nepotism, making appointments that favoured people around him, Obasanjo meant to rub salt into injury.
Then , Buhari made his move. Last week, he began a tour of states ravaged by the herder-farmer violence, finally arriving Benue March 12. He held a townhall meeting with governor Samuel Ortom, senators George Akume and Barnabas Gemade, traditional leaders and families of victims of the violence that has claimed over 200 lives so far and made about 170,000 destitute. The President pleaded for peaceful coexistence of the ethnic communities in the state. He did not single out anyone for blame, but he asked the police to do their work: bring criminals to book.
What more, Buhari revealed that he privately remonstrated the Inspector General of Police Ibrahim Idris for not following his order to relocate to Benue to take charge of the security challenge there. The Presidency, Tuesday, confirmed that Buhari had queried the IGP officially. In Makurdi he said he was concerned about the senseless killings in Benue not only because he was President but also that he had "good friends" from there. He would not, however, make any promises because he was not on a vote catching campaign.
Still the criticism of the President did not stop. Some said he was in Benue to soften the ground ahead of the 2019 elections. However, Buhari has not said he would run or not run.As to his not blaming one community or the other for the killings, it was because he recognised that is the job of the police. And he has assured whenever a police report eventually lands on his table he would share the information with the state government, the same way he did share similar reports earlier with Benue elders.
However, over the din of cynicism and open confrontation, was the louder testament to the changed mood of the Benue state government. The anger that Nigerians saw all over governor Ortom was replaced by cool headedness, humility and respect for Mr. President. The message he sent out was that one could make a good, convincing point. without being indecent and disrespectful. We commend Ortom and his team for showing exemplary leadership.
To the President, we dare say he should not be distracted by the rain of criticism, but must remain focused and consistent in his resolve to bring forth good governance.