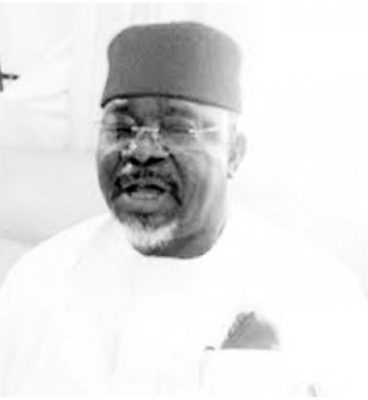 Gen. JOJ Okoloagu, a member of Board of Trustees (BoT) of the ruling All Progressives Congress (APC) in this interview with Peoples Daily Ochiaka Ugwu spoke on the issue of some federal lawmakers who booed President Muhammadu Buhari when he presented the 2019 Appropriation Bill in the National Assembly. The visible angry Okoloagu opined that those lawmakers shouldn't be returned by their constituents.
What is your take on the way President Buhari was booed by some lawmakers during his budget presentation at the National Assembly?
I will start by thanking you for finding me fit and proper to speak on this issue. ab initio, I want to make it crystal clear that I will be talking to you in my capacity as an elder statesman, a Nigerian who has seen it all. I am above 70 years now. I was there during the independence celebration in 1960. I want you to record me proper, take party completely aside. I have been in politics for 15 years now and for the three times a ran for election, I have only contested for one position, which is to be senator of the Federal Republic of Nigeria and represent my people of Enugu North Senatorial zone at that level of responsibility. I never contemplated of being a governor. I am a lawyer but I am not in the judiciary. It was very clear to me when I was coming into politics that the best way to serve my people was to go to the National Assembly, precisely the senate. But the event of what happened in the National Assembly when Mr. President came to present the 2019 appropriation bill; I wouldn't know whether to celebrate all the frustrations by the political class on my ambition to go to senate or to thank God I never did. Because if you have an ambition in life, you will hold it sacrosanct and you will respect it. To me, I have served this nation in the military for 35 years and I am enjoying my pension.
I have sojourned while in the military in America, Asia and Europe. So, I have some good experience and contacts. My greatest shock and disappointment was what happened in the National Assembly when Mr. President was presenting the budget. That is why I was saying that I do not know now whether I can now say thank you Jesus for not being part of that show of shame from the National Assembly. Because, if I had been in the senate, I don't know how I would have handled my temper. For goodness sake, I wanted to be a Senator, but if being a Senator or member of House of Reps is what I saw during the budget presentation, I don't want to touch that place with the longest pole. I don't just want. I have seen the world and the world has seen me too. I have gone round the globe, but I have never seen what happened in National Assembly in my 70 years of existence. It is normal in politics to heckle, to abuse, but off course, heckling should be done with decorum. I don't know who, but I was personally very very annoyed and felt insulted. I am no Buhari, but if you listened very well during the presentation, one voice was consistently shouting, "Buhari Ole, Buhari Ole". Calling a sitting President Ole in revered chamber for goodness sake, do you call it freedom of speech or heckle. Ole in Yoruba means thief. Buhari I know is incorruptible and even if he is. Is it right for anyone to call him Ole in eyes of the world? How can one call his president Ole in front of the world? I mean is unheard of and very unfortunate. I weep for Nigeria and my generation.
I think that Nigerian electorate for the next election must do the needful by moving along with the world. The society is dynamic. People heckled the colonial masters in the 19th century, but I don't understand people doing it now in this millennium. Insult is different from that. How on earth can one call Mr. President like that in a most wicked manner? Using your native language to insult a president while a National Budget was being presented in the National Assembly is just something I can't understand. No, Nigerians must think twice. We are not in a military regime. Indeed, I think that the leadership of National Assembly owes it as a duty to Nigerians to identify those who intentionally disrupted the presentation of the national budget. It is more honourable to stay away from that hallowed chamber for the event than coming to embarrass Nigeria and Nigerians because the world was watching. You don't just reduce this country to a market place.
Most people don't understand it; the legislature is the epitome of democracy. I say it again; legislature is the epitome of democracy. Whatever system of government you have, be it military, autocracy or even monarch you must have the executive and any form of judiciary. When you have that powerful checks and balances from the legislature that make sure that the executive or the judiciary go by the legislation of the land. That is why I wanted to be a senator. Well, it may be more lucrative being a governor or whatever, but I think it is more honourable to be in the National Assembly. I see my contemporaries in India, Pakistan and America, I have trained in all these places as a retired General, you can only be called upon may be to serve in a managerial level. All these countries do all these things to better their system.
I didn't come into politics as retired General to feed but to serve my people. I want to serve as a legislator, as a senator and to be in National Assembly. if I were a senator, how could I have gone back to my constituents with that show of shame to ask for another mandate. I listened to a senator describe it as freedom of expression, but to me, it is putting bold face in a bad business. I praised a lawmaker who said you can heckle but you don't abuse and curse. For goodness sake, the campaign trail is there for all the parties, you can go there and insult anybody, but not where you supposed to be dispassionate.
I don't think that any APC man would have done that to his president. I must say that the leadership of National Assembly must make effort to identify those people that were behind that show of shame that embarrassed the country. The electorate from their constituencies if they can't recall them should never vote them back. I say again, the leadership of National Assembly should make extra effort to identify them, because I can't imagine myself that somebody making laws would condescend so low to a mob action in hallowed chamber. Unfortunately, those people who made that noise while budget presentation was going on in National Assembly are not good representatives of their constituents. I condemn it in totality and ask Nigerians not to allow those people to go and desecrate the floor of National Assembly. Nigerians must learn that the legislature is the most important arm of government in any democratic setting. It is not the executive or the judiciary. It is the think-tank and if the think-tank decides to make itself unimportant, it is unfortunate. It is not a military regime and if it was military regime and I was in power, I will disband them. Anybody can say anything; in the western democracies, you can heckle the president or the Prime minister in a decorous manner. I think in the eyes of the sane society, President Buhari showed maturity and leadership. I talked as elder statesman and not like a party leader. If Alhaji Atiku Abubakar is president tomorrow I will react the same way. If Moghalu or Oby Ezekwesili is president tomorrow it will be the same reaction. Let's take away ethnic prejudices. What worries most is the generation we look up to as future leaders descend to such a riotous crowd that doesn't hope for leadership. It is unfortunate and regrettable. I will say that we are better off with the old order, because the youth we are looking forward to give us leadership have failed. If you don't like the president vote him out, don't go to National Assembly to disgrace your country. It is unacceptable.
When you are still playing school boy please don't go to National Assembly, you can go to State Assembly and when you drink your beer you can choose to fight there.
I just came back from India where I stayed one month for my surgery and every day I watch Indian parliament. Sometime they speak in English and sometime in their local dialect, but you don't see this kind of show of shame. Why must we behave like this? After all they are not better than us or is because they are white and we are black? Being black doesn't mean you should have a black mind. I tend to compare Nigeria with India because we are both colonized, but they have gone far. We lack management, nationalism and above all commitment.
But could this be seen as an indictment on your party and Mr. President?
These are individuals' prejudices I referred to earlier run. If it is an indictment on Mr. President or on APC go to the ballot box and get them out. The world was watching that was what Buhari told you people. America was watching, Europe was watching, Asia was watching. You have opportunity to remove them through the ballot box if you don't like them. I said I am going to address you not as a party man but as an elder statesman and a nationalist who has seen it all. It is a simple matter, if you have disappointment on the leadership of APC vote them out. You don't come to that highly respected floor and denigrate the president and the country. Buhari is a symbol of Nigeria whether you people like it or not, but as far as I call myself a Nigerian, Buhari is the symbol.
What do you make out of the recent murder of the immediate past Chief of Defense Staff, Alex Badeh?
On the death of the former Chief of Air Staff and later Defense Staff, I am personally bereaved. In course of my military career he had come across me in different capacities even though he was far much my junior in the service. He was a fine pilot. Again, the circumstance of his death is embarrassing to me too. But what I don't understand is why a former Chief of Defense Staff who was entitled security personnel was going alone without security keeps me thinking. I can't get it. What will make him to go alone in that lonely road without armed personnel is strange to me. This was a man who headed a service and later the three services of the armed forces. Well, I can't understand and it doesn't jell for me. You may wish to refer your enquires to the Defense Headquarters.