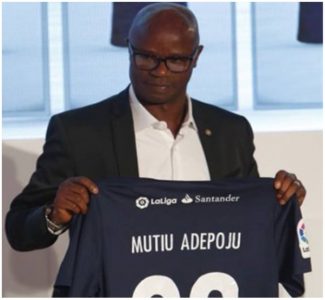 By Amaechi Agbo
Former Super Eagles player and La Liga Ambassador in Nigeria, Mutiu Adepoju has said that the partnership between Spanish Premiership, La Laiga Santander and the League Management Company, LMC which is in charge of NPFL in Nigeria, has come to stay.
Popularly called "Headmaster", the former midfielder cautioned the Super Eagles against underrating any team ahead of their World Cup Group D opener against Iceland in June 22.
In an exclusive interview with our correspondent, the former Real Madrid, Racing Santander and Real Sociedad player said the Super Eagles has the opportunity to progress from the group if the players work hard and play regularly in their respective clubs. He also spoke on other sporting issues including Victor Moses' snub by CAF, CHAN Eagles and the clamour to recall Vincent Enyeama to the Super Eagles ahead of the World Cup in the Summer.
Victor Moses was snubbed by CAF despite winning EPL with Chelsea, what could you say was the reason he was dropped from the top three shortlist for African Player of the Year?
One thing you should know is that the selection was done by voting and a lot of people voted. Probably they prefer other players to him. If you look at it very well you will agree that those players on the final shortlist also deserve to be there because of their performances. Do not forget that Moses was not regular with the national team, so it was a factor which worked against him.
We should not be thinking because he is a Nigerian but we would have been happy if he made it. But Victor Moses have been doing fine in Chelsea and I believe if he continues to play well and having impact in his club and the Nigeria national team, probably by next year he might be among the top three.
It's almost two decades a Nigerian player won the African Player of the year. What would you attribute this scenario to?
I will attribute it to our inconsistency in the continent and even in the national team. Although we won the AFCON in 2013 and we qualified for World Cup 2018 but on individual aspect, the players have not been in top form and they have not been playing in top clubs and playing week in, week out and helping the Super Eagles to win matches. I believe it is because of that and the way we go about developmental programmes for the game here in Nigeria. But I am optimistic that very soon things will change and we will see better opportunities.
How would you rate Super Eagles chances in the World Cup in June?
Well, looking at it on paper, we have great opportunity but that opportunity will not come just on the platter. We have to prepare, play some matches and perform very well. There is no team in our group that is a push over; if we are thinking that Iceland is a very easy country and Croatia too and then regard Argentina as the only strong team, we are digging our grave. To get out of the group, we must work hard, the players have to be in top form, and they have to go to the World Cup with the mentality of winning. When we do that, then we can say we have chances of progressing from the group. We cannot just say it by mouth; we need to do the work. When we have played the friendly matches lined up for the team, one will be able to assess the team better. As for now, the team is a work in progress.
What Personal target are you setting for the Super Eagles in June?
On my own personal opinion, I believe we have to go step by step because football is not Mathematics. You cannot just say because you qualified undefeated then you are going to workover other opponents in the tournament. You have to work, play and score goals before you can win a match. I am not going to set target, I believe if the team prepare and do very well, they will go beyond the first round. They need to go step by step.
How would you compare your 1994 AFCON winning team with the 2013 Super Eagles?
I do not want to compare. That is one of the problems people have trying to compare the two teams. The two teams came and played at different times. During our time you will agree with me, we tried our possible best though there were no big monies here and there but everyone wanted to make name; to represent Nigeria and do great things so that people can remember us. We also played our best in order to get a better club. The commitment and dedication was there and it was never because of money.
Nowadays it is different but I believe the present group of players in the national team have missed a lot because they have not etched their names in world ranking in football. The team did well by qualifying for the World Cup without losing a match but they need to do more at the World Cup proper.
Your team was ranked 5th in the world after your World Cup heroics in 1994 but now the Super Eagles is ranked 51 in the world. Don't you think that there is a pole between the two teams?
I really do not want to compare but talking about the ranking, they can surpass that ranking in the 1994. Probably if they do well in Russia and get to the quarter final stage they could make greater ranking than then. The fact is that, as I said earlier, we were not thinking about money and all that but you should also know that the way things are now were not the same then. Things are totally different. We are talking about different times and generations. However I believe that the crop of players in 1994 set a standard but that does not mean it cannot be surpassed. Our past cannot be better than out future.
Having been following the CHAN Eagles in Morocco, how many of the players would you recommend to Super Eagles coach ahead of the World Cup?
Well, I cannot dictate to Gernot Rohr, I believe he is watching them and monitoring them too. I understand he has been with the team so far. For the games I have watched them play, I cannot put my hand in anything now, let us just watch and see how they will finish.
What is your take on the clamour for the Recall of Vincent Enyeama to the Super Eagles?
My advice to the goalkeeper trainer of the Super Eagles, Aloy Agu is to work hard and see that we carried our best hands to the World Cup because we cannot be thinking of one person. We should not put our eggs in one basket thinking that Enyeama would come back. He has said it publicly that he is not coming back. Should we still be dwelling on that and be waiting for him to change his mind? I don't get it. I don't really understand because people are clamouring for his coming back, we need to move on. When you are preparing for World Cup, you have to do some certain things most especially in the goalkeeping department.
In 1998 we had same situation and (Peter) Rufai was brought back three to two weeks before the world Cup and we all saw what happened. We need to keep our eyes open and be able to look out for other players and see who we can bring in. the coach knows what to do and I believe he will take the right decision at the right time.
La Liga partnership with LMC, how has it helped in reinvigorating football development in Nigeria?
La Liga is Nigeria to stay and La liga is not just in Nigeria, it has come to help in areas of development of football and support. Last two seasons we took the NPFL All Stars to Spain and the players played some couples of friendly matches to have a feel of Spanish football. We also organized a seminar for club chairmen in Spain too on how football is run and the facilities needed to keep it growing.
Outside that, Rivers United were also in Spain in December 2016 for their preseason and they were able to use the facilities there and played some clubs like Villarreal over there.
Last year, in collaboration with LMC, we organized Under 15 championship and we are also preparing for this year's edition. We also had a coaching seminar and we are also going to hold the same seminar in preparation for the U15 in April this.
There are so many other plans still in pipeline which I will not be able to talk about now but in due course, we will roll everything out.