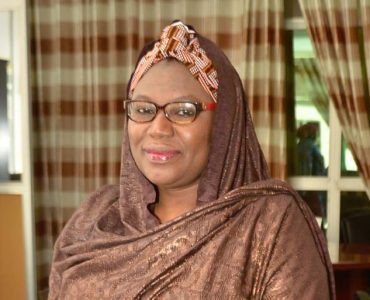 TUESDAY Column by VICTORIA NGOZI IKEANO
vikeano@yahoo.co.uk | 08033077519
Hajia Aisha Muhammad Bello, until some ten days ago, Kano State Accountant General, did what in this part of the world is considered unthinkable by voluntarily resigning from what again in our clime is seen a juicy appointment. In grading public office portfolios as "juicy and not juicy", Nigerians are of course, distorting the concept of service. For, service means "to serve", to give unselfishly. And in this connection no one position is more esteemed than the other; they are all of equal value as the one is as important as the other. Thus in the true sense of the word (to serve), the cleaner who for example, keeps the office apartment and toilet of the finance minister sparkling with commitment to his/her duty is rendering as much service as the minister. This of course, is not the way many Nigerians see it as they value and rate an office/portfolio by the amount of money controlled by it and the public officer who superintends over it. The notion (wrong) being that the more money a public or civil servant controls, the more money he/she has to throw around unscrupulously. But these funds are not the personal cash of the public servant overseeing them but our collective heritage that are meant to be put to the service of the state/country – to be used to do the greatest good to the greatest number of people.
Lest I digress further, let us revert to our subject matter. I was saying that Hajia Aisha Bello in voluntarily quitting her 'big' job did the unthinkable as public/political office holders and civil servants hardly resign their appointments, no matter what pressure is brought to bear on them. They would rather die on the job or be pushed out by the appointing authority. From available reports, the former Kano State Accountant General was not under any pressure from Governor Umar Ganduje who appointed her, to resign. On the contrary, the governor had allegedly rejected her first resignation letter submitted some months ago. Indeed it was reported in some quarters that the government had also initially rejected her latest letter of resignation. I consider this to be speculative. It would be foolhardy for Governor Ganduje not to have accepted her offer for nobody should be made to do a job or stay in a place against his/her will. To do so tantamounts to slavery.
Hajia Aisha Bello's three paragraph letter dated February 20, 2018 read, "It is with a huge sense of responsibility that I hereby tender my letter of resignation from the services of Kano State Government with effect from 22nd February 2018. Meanwhile I wish to profusely thank His Excellency, the Executive Governor of Kano State for the wonderful opportunity given to me to serve the government in two different capacities as Commissioner of Planning and Budget from 22nd June 2015 and later as Accountant General from 17th August 2016 to date. May the Almighty Allah reward you Sir, protect and guide you, your family, your administration and the good people of Kano State". The first sentence of her letter shows that her decision is not a spur of the moment thing but one which she had carefully weighed. And in saying that she is resigning "from the services of Kano State Government", it implies that she no longer wants to be in government employ – perhaps she wants
to go back to the private sector. She was a banker before her foray into public service. Also by giving just a one day time line for commencement of her resignation, not even factoring leave period into it means she wants it to take almost immediate effect. Again in giving her address as a private property in Nasarawa local government area and not apparently wishing to take advantage of the fact that public officials are allowed to still stay in their official living quarters for one or two months after leaving office implies that she truly wishes to do away with government job.
She really appreciates Governor Ganduje for appointing her into two high offices in the second sentence. She reinforces her appreciation in the concluding part of her letter by praying rather fervently for him. From the tone of her letter it can be inferred that Hajia Aisha Bello had no problems whatever with her governor. In fact it can be surmised that Governor Ganduje had implicit confidence in her. Otherwise, he would not have appointed her first as a Commissioner in his cabinet and then, as the State's Accountant General, thus making her the State's first female Accountant General. This is a historical feat for which Hajia Aisha Bello's name is imprinted in the sands of time.
So where was the problem to warrant her resignation? It is obvious that Hajia Aisha Bello was not happy with certain things for her to have reportedly tendered her first letter of resignation sometime last year which was allegedly rejected. And for her to have put in this latest letter implies that her concerns had not been addressed. The former Accountant General is reported to have been investigated by the State's anti-graft agency and she came out clean. I commend her for her integrity in that wise which is how it should be. It might perhaps be that some officials were not happy with her financial discipline and sought to make things difficult for her.
Some reports speak of interference and insubordination. As Accountant General, Hajia Aisha Bello would be reporting to the Finance Commissioner and the Governor. Her subordinates would be the various directors, viz, the Director of Treasury, Director of Budget, and so on and so forth. I do hope that our cultural mentality did not creep in in her workplace whereby some men find it abhorrent to take orders from a woman. It should be noted that the office and home are two different settings with different rules. An office, a workplace is an official environment with formal rules and lines of communication. Once in that place, we are bound to respect it irrespective of age or gender. But the roles may be reversed when we step outside it.