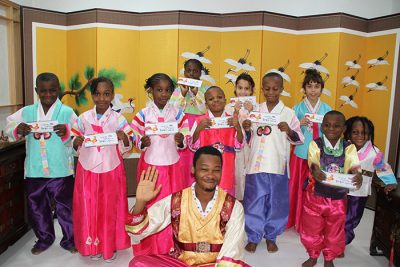 By Ikechukwu Okaforadi
The citizens of Korea and Nigeria in Abuja at the weekend held cultural and sports events to mark this year's Seollal Lunar New Year, which also featured Korean delicacies and outfits to mark the Korean New Year at the Korean Cultural Center in Abuja.
Many Nigerians who attended the event vigorously participated in the cultural traditional activities to mark the new year of the Koreans, including the sebae traditional bow to one's elders, and tried their hands at traditional games like yutnori, jegichagi and tuho.
Yut-nori is a traditional Korean game which is a popular game that involves the use of four wooden sticks, and a simple game board.
It was a fun-filled day for everyone, and those who participated the various Korean games left with smiles.
However, some of the Nigerians who participated in the New Year celebration said they were excited to participate in the celebration.
Miss. Faith Dada , said ,"It is a great experience full of activities especially the games. They try to carry everyone along . Every is involve in one game or the other . The officials are very friendly and they did not discriminate. I really feel that in Nigeria they should try to carry everybody along . I will say a very big thank you because this is a very big lovely experience."
Also, another participant, Seyi Adekoya said," I have been involved in Korean programmes and you get to learn a lot of things about their culture and it is really interesting coming here to learn about their culture which will cannot get from anywhere else.