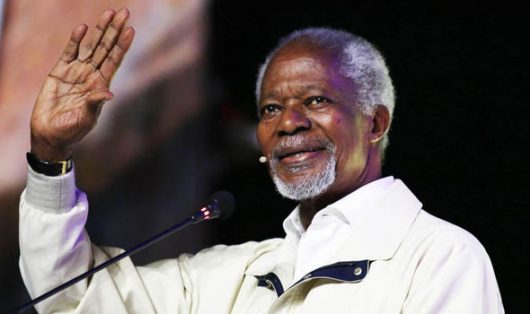 Former United Nations Secretary General and Nobel peace prize winner, Kofi Annan, has passed on, aged 80. He died Saturday, August 18, in hospital in the Swiss town, Bern. The Kofi Annan Foundation said the Ghana-born career diplomat "passed away peacefully after a short illness". His wife, Nane, and three children were by his side during his last days.
Annan was two-term UN scribe from 1997 to 2006, the only black African to hold the post in the over 60 years of the UN's existence. After his tenure lapsed, Annan served as the UN special envoy for Syria. His task was to oversee international efforts at finding a solution to that nation's civil war. However, he quit after only 6 months. He blamed the world powers for failure to fulfil their commitments.
The Syrian failure, however, did not diminish Annan's world standing as "the conscience keeper of international peace and security". In 2012, he was made the chair of The Elders, a peace and humanitarian advocacy group that South Africa's first black president Nelson Mandela founded. Before his death, Annan led an independent commission that was investigating Myanmar's Rohinga crisis.
In his long diplomatic career, Annan would be remembered for opposing the United States 2003 invasion of Iraq. In spite of their differences. former President George W. Bush, in a tribute to Annan, described him "a tireless leader of the United Nations whose voice of experience will be missed around the world." Another plus for the Ghanaian diplomat is the Millennium Development Goals (MDGs) which, for the first time, set global targets on issues like poverty and child mortality. It is today widely regarded as successful.
Annan was an unrepentant crusader for the cause of those caught up in war and natural disasters. Quietly but firmly, he told world leaders, however powerful, to be alive to their responsibility to their peoples over and above their political ambitions. His foundation, while announcing Annan's death, described him as a "deeply committed internationalist who fought throughout his life for a fairer and more peaceful world."
Current UN Secretary General Antonio Guterres has praised Annan as "a guiding force for good". Ex-US President Barack Obama said Annan had always pursued "a better world". He added, "Long after he had broken barriers, Kofi never stopped…". Ghanaian President Nana Akufo-Addo called his late compatriot "one of our greatest compatriots" and has announced a week of national mourning. Indeed, all African countries today mourn the continent's greatest.