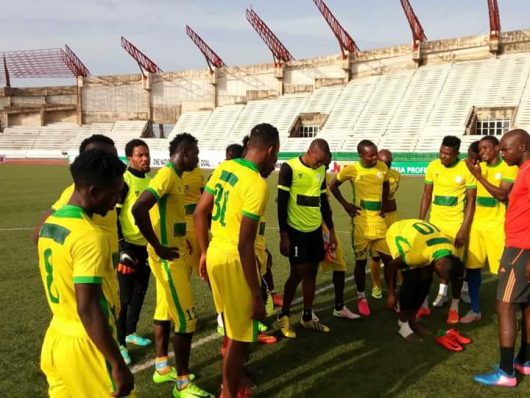 By Amaechi Agbo
Katsina United are owing their players more than half a year salary, one of the old players in the team has contacted us to explain how the players are suffering such that some of them are begging for N100 to survive.
The player who asked not to be named for fear of victimisation said that the management of the team has remained mute over their plights adding that he has been receiving calls from some of the players who ask him to send them money as little as N100 for them to survive.
The player who said that since January 2020 they have not received their salary stressed that the last salary they got was half payment the management made to the players in January.
He debunked reported credited to the Secretary of the club who was quoted saying the club is owing four months.
The player who described their plight as frustrating said that they are surviving by the grace of God.
"Yes, the club has been owing us for 7 months. I think the chairman is meant to pay the cash because they keep telling us today, tomorrow; they will be going to the bank, they don't have cash. Different stories every day. It is either the governor is not around or the accountant general is back or one other thing they will hold on as excuse.
"We have been really, really patient. Imagine during the lockdown there was nothing like payment for people to survive despite that they have outstanding salary which they were supposed to pay. They never did anything like that. Even when the players came out to talk about the salary, none of them came out to explain things to us.
"So it is even more painful and frustrating that we are complaining yet they are keeping deaf ears. The players came together but you know Nigerian thing now, no body would want accusing fingers being pointed at him for fear of being fired or punished in one way or the other.
"That is why most of the players have been mute. None of them wants to come out and fight for their rights. You know Nigerian players, they forget that this thing is their right, they worked for it but due to the managerial system that we have found ourselves in.
"So far, what they are owing us is actually six months and a half. They paid January salary but it was half. And even inside the half, they also deducted money from it. There was money they gave the people in camp from there. So they deducted the money out of the half salary they paid. We heard that (the government) gave them N23 million but they ended up paying half salary to people. That was the last payment they made.
"Since that January they made half payment till now, nothing have been paid. So it is like five months and a half. But there was outstanding salary in August. They skipped the August salary. We have been complaining to them to pay the money but they kept promising.
"Funny enough, they are claiming that they are owing us four months' salary. But if you calculate from January till May and the August salary, that is six months and half.
"That is why most of the players say it is seven months. They came to camp and paid the half salary in January and deducted money from it to pay others without our consent. That is why most of the players concluded that it is seven months but the truth is that it is six months and a half. That is the real salary they are owing.
"Imagine the secretary coming out to say it is four months they are owing, they are not even ashamed just because the players are quiet. While the league was on, some of us the matured players, we tried to fight this thing but the coach was feeling as if we do not want to play for him. But he did not know that we were trying to correct things that were not going well. He felt we were forming a senior group that we do not want to work for him. It is now that he has come to realise that we were trying to fight for the benefit of everybody.
"The coach is aware that we are being owed for more than half a year. We are into it together. I think they are owing him too, they are owing everybody. It got to a point the he too could not bear it anymore. They are owing everybody. It got to a point that they paid the players but did not pay the coaches. That was in November period," he said.
On what efforts the players are making to get their money and also survive the impact of the lockdown, the player said "We are trying to lay our complaints. We have been crying to them but there is no response. Nobody is coming out to talk to us, to give us a little hope; they are not telling us anything. See the likes of Heartland and Kwara United, they are in the house and they pay them. Money has not come out in Heartland but they still explain to them the situation of things and they understand them. But ours, they are not even saying anything. Things like this are frustrating.
"It has been God (That ensure their survival). We do not have any other job. This is where our livelihood lies. We do not have any other means, it has been God. I know how many players that call me. Players call me and ask me to send even N100. So imagine the level of the suffering. It has gotten to the pinnacle. It has been God. I know so many of the players will beg to survive.
"You are a professional but you cannot live like a professional. And one chairman and secretary will come out to say they are owing four months. They are not even ashamed of themselves. There is no hope of getting money from anywhere," the player said resignedly.
When our correspondent called the mobile phone number of the club's secretary, Sani Tinau at about 3pm Friday, it was switched off. A message sent to him to further get his reaction was not responded to at the time of this report.
Three hours later after our correspondent got notification that the sent message has been delivered, his mobile phone number was called again, but it was still switched off.